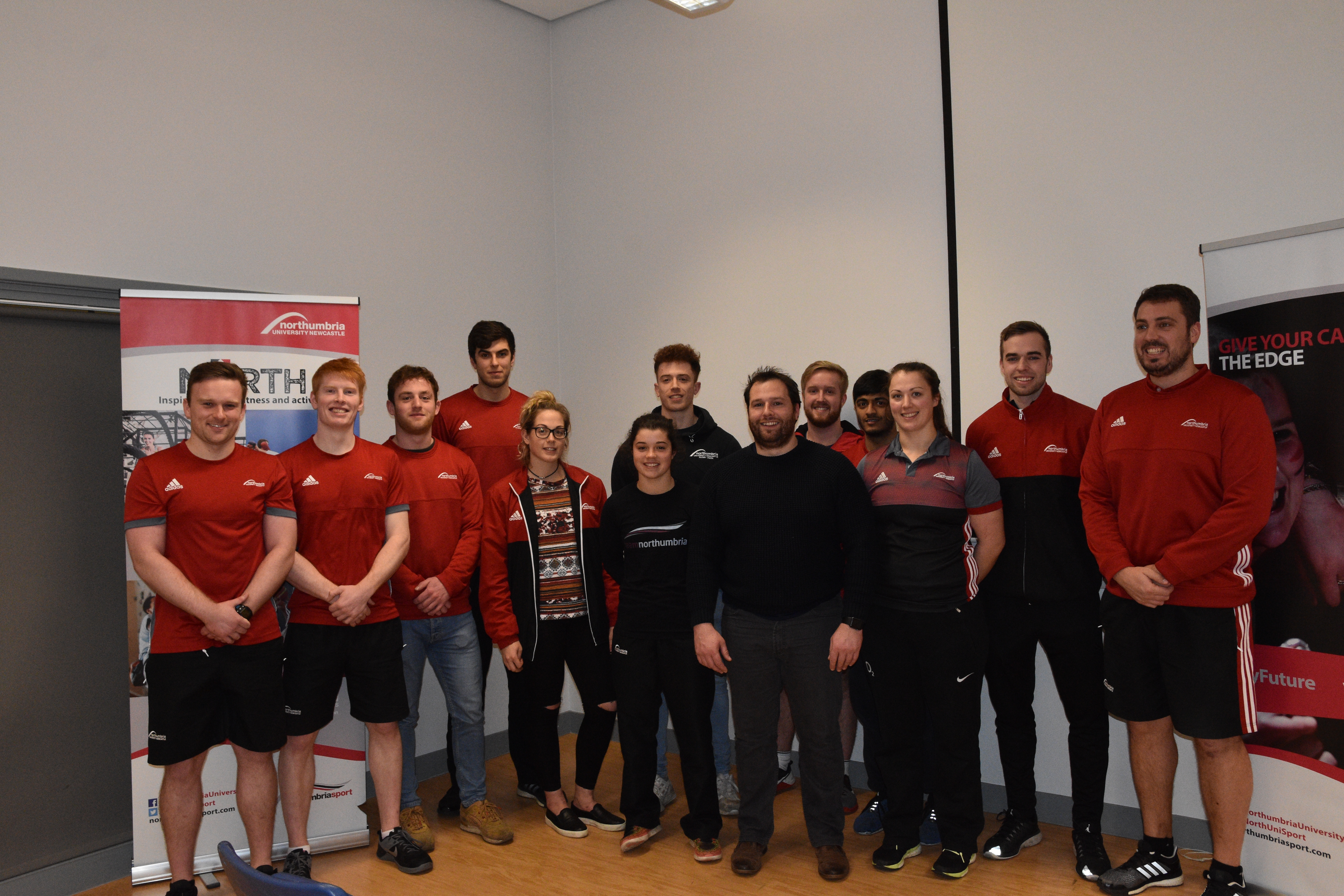 One of the nation's elite strength and conditioning coaches payed Northumbria University a visit this week - providing a guest lecture to sports science students.
Alex Wolf is the head of strength and conditioning for the English institute of sport (EIS), overseeing a team of more than 60 coaches from Team GB's Olympic and Paralympic sports.
Having spent nearly six years preparing the GB rowing team for London 2012, he earned the position of lead performance scientist for the British Olympic association at Rio 2016.
With more than 12 years' experience working in high performance sport, Wolf is the perfect candidate to offer insightful guidance into possible career opportunities for Northumbria graduates.
"A degree gives you the underpinning knowledge and rationale for why you do what you do - the most important thing for us is not necessarily the qualifications or degrees but the experiences and the meaningfulness of those experiences," said Alex.
"Work experience and placements are important – the voluntary work at university is probably where you can spend the most time really getting to grips with the area you're interested in.
"If you wait until you graduate you're probably about three or four years behind. Some people have been going through a lot of coaching in that period of time, so it's crucial to gain experience.
"There are 15,000 undergraduate sport science and related graduates every year, 1,500 MSc graduates a year, of which, the EIS looks at maybe 18 of those so it's less than 0.02% of the market that we're looking for.
"It's a really tough market to get into - the big thing is daring to be different and to think about the ways that you stand out.
"Fundamentally, you have to have a degree in a sport science related area, a number of years coaching experience and demonstrate how you've made an impact or difference in your chosen field.
"It's vital to be able to reflect and continue to reflect on their coaching practice, identify how that's influenced their current practice, and if they are able to critically think about what they're doing, whether its successful or not, and why that might be.
"It's crucial you work out what area you want to work in – different sports don't require the same qualifications or experience and its working out what they're looking for.
"It won't happen if you don't invest in yourself, so whether that's education, experience, voluntary work or spending time with experts in the field, it's all important."
Team Northumbria's Nick Ridgeon, who hosted the event, was delighted with Wolf's inspirational words and admitted a fresh opinion is invaluable to student development.
"Bringing someone in externally is always a good thing because it challenges your way of thinking and provides further value to our university programmes," he said.
"This has hopefully given people a good look at how they evaluate themselves critically and their practice as a working practitioner."