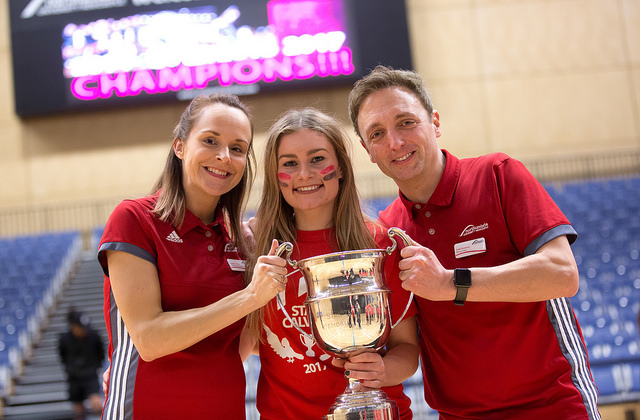 Proud Director Of Sport Colin Stromsoy paid tribute to students and staff as Northumbria University retained the Stan Calvert Memorial Cup in style.
It is now four years since fierce rivals Newcastle University tasted victory in the annual inter-city varsity clash.
And after a commanding 79-42 win Stromsoy said: "This result is a testament to the professionalism and passion of all of our student athletes and staff and I'd like to offer my personal congratulations to each and every one of them.
"They never - not for one minute - showed any complacency. They approached every fixture in the right frame of mind and everything that I wanted and expected from them they've delivered."
Northumbria went into the final day of competition with a 29-11 lead. Newcastle needed early breakthroughs in Athletics and Tennis if they were to have any chance of closing the gap but the 2013 winners had no answer to their rivals' relentless pursuit of glory.
"To win the Stan Calvert Cup by such a significant margin is important in so many respects but it's undoubtedly significant in terms of future recruitment," added Stromsoy. "Newcastle University has a deserved reputation as an excellent University for sport and when I was appointed in this role five-and-half-years ago I looked at what they were doing and I wanted us to be in the same ballpark.
"I wanted more students to choose Northumbria for sport. Now I feel we're on a different level altogether. The way that our students and staff have conducted themselves - and the way they have gone about deconstructing Newcastle's teams throughout the Stan Calvert Cup competition - has confirmed that. For me to see that sense of purpose, focus and clarity across the board makes me very proud."
Stromsoy was on hand to witness a string of special victories as Northumbria went in search of their biggest ever Stan Calvert Cup win. And after a testing year for everyone involved with sport at the University he added: "There is much more to sport at Northumbria University than the Stan Calvert Cup but it's a barometer of our success.
"We lost by 50 points in my first year at the helm. When I took up this role winning the Stan Calvert Cup was central to lifting the whole sport programme. Four years ago we'd lost six competitions on the bounce - now we're looking at four successive victories and a record Northumbria win. That turnaround is incredible but it's reflected across the board - in BUCS and National League."
Stromsoy said Northumbria would use the University's latest Stan Calvert Cup triumph as motivation to finish the sporting season in style. And he added: "We've gone about retaining the Stan Calvert Cup for the fourth year running - and making history - in a ruthless and determined fashion that Newcastle simply failed to cope with. We've been in control of the competition from start to finish and I couldn't be prouder of everyone who has played their part."