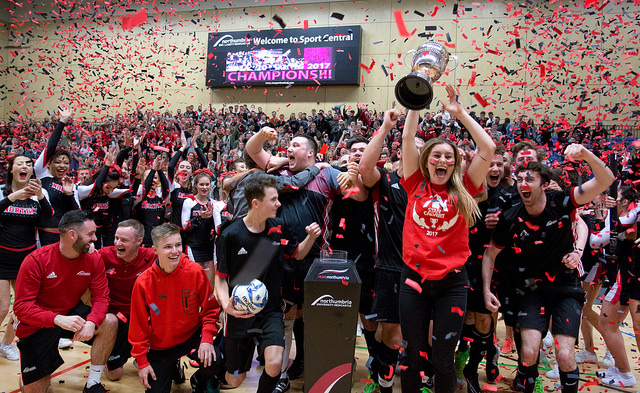 Good afternoon and welcome to the live feed from Stan Calvert 2017!
Check in for all the latest news and reaction from the coaches, captains, staff and members of the roving TN Media Team.
Follow @TeamNorthumbria and Media Team members:
We've got Media Team journos Kieran 'Raging' Bullen, Lottie 'Nerves Of' Steele, Steven 'Welcome' Back and Johnathan 'Battering' Ramsay at Sport Central to cover all of the indoor action. And look out for the 'Ant Man' - Antonie Thomas - around Coach Lane and Longbenton.
This year the 'Gee Force' - Danny Gee - is going behind enemy lines to report on Table Tennis and Badminton at the NU Sports Centre (if he can find it and if he can ever set up his Twitter account). And we've got roving reporter Owen 'Goal' Thoms supporting when and where he can.
FINAL SCORE: Northumbria 79 Newcastle 42
And there it is - M1 Futsal bring down the curtain on another brilliant day of Stan Calvert action with a fitting 6-5 victory in this year's finale. Huge congratulations to all Northumbria University Sport staff and students on what has been another historic day. Onwards and upwards!
Closing stages in M1 Futsal and it's Northumbria 4 Newcastle 3. Just blow the whistle already referee!
And that finishes off today's action in the pool in spectacular style:
SCORE UPDATE - M1 @TNWaterPolo win 6-2 to wrap things up in the pool - Overall score now 77-42. #StanCalvert2017 pic.twitter.com/8GcKIHYoTh

— Team Northumbria (@TeamNorthumbria) February 26, 2017
SCORE UPDATE - M1 @TNWaterPolo win 6-2 to wrap things up in the pool - Overall score now 77-42. #StanCalvert2017 pic.twitter.com/8GcKIHYoTh

— Team Northumbria (@TeamNorthumbria) February 26, 2017
Northumbria looking to close out victory in M1 Futsal....
8pm: Incredibly it's 75-42 to Northumbria with just two matches outstanding. A MASSIVE margin of victory - over to M1 Futsal and M1 Waterpolo to finish things off with a flourish and then there's the big presentation at 9pm.
Disappointing defeat for W1 Waterpolo but a fantastic effort from the ladies in the pool. Men up next and this one is there for the taking!
So just three results to come with W1 Waterpolo in action now, M1 Waterpolo up next in the pool and M1 Futsal kicking off at 8pm in the Sport Central Arena. What a day! And it's not over just yet!
This just in from 'Nerves Of' Steele:
What a game, fantastic play from M2 basketball! Final score Northumbria 94-59 Newcastle #StanCalvert2017

— Charlotte Steele (@TNMediaLottie) February 26, 2017
Well done boys!
🔴24-3 against the posh for our M2 team! Congratulations lads, absolutely smashed them!!⚫️ #MyTeam #TN #PTID #StanCalvert2017 pic.twitter.com/kQ2apTF1ko

— TN Water Polo (@TNWaterPolo) February 26, 2017
Great win for M1 Badminton sees overall score stretch out to 71-40!
Sounds like a belter in the M2 Futsal!
It finishes 4-4! Brilliant performance from the @TNfutsal1 boys! #StanCalvert2017 🔴⚫️

— Kieran Bullen (@TNMediaKieran) February 26, 2017
'Nerves Of' Steele still got her eyes peeled on the M2 Basketball clash. The hosts lead 63-43 ahead of the final quarter.
This is what it's all about:
This is how excited @Emily_Watkinson is to bring the #StanCalvert2017 Memorial cup home for a 4th year! HERO ⚫️🔴🏆🏆🏆🏆 pic.twitter.com/3hYMfa4tK8

— Team Northumbria (@TeamNorthumbria) February 26, 2017
And here's the news we've all been waiting for:
It's now official, Team Northumbria are Stan Calvert Champions. Well done to every student and staff member #Legends pic.twitter.com/rf0TfAbpES

— Team Northumbria (@TeamNorthumbria) February 26, 2017
6.30pm: 68-39 to Northumbria and we hear an official announcement is incoming...
NET GAIN: Netball 1 win 59-36 and delighted Director of Netball Te Aroha Keenan caught up with 'Raging' Bullen on the final buzzer. "It's an awesome win. This is a big thing for the University and we're just happy to play our part. It was a good performance - we had two girls out there who played in the NSL match in Birmingham and it was good to see them get out there and set the mark."
Still no official confirmation of a fourth Stan Calvert win on the bounce but it's ok because...
The bar is open in Corry until 7pm and then from 8pm - 10pm

— Team Northumbria (@TeamNorthumbria) February 26, 2017
After that tense Table Tennis marathon most Media Team alumni (you know who you are) would have been on their way home looking forward to a hot bath. Not 'Nerves Of' Steele - she's only gone and popped up at the M2 Basketball!
Is anyone celebrating inside Sport Central yet? Even with a limited grasp of basic mathematics it's impossible to see a way back for Newcastle here? Is that the Fantastic Four? Is it?!!
Netball 1 minutes away from a big win. M2 Futsal 2-1 down...
TOP OF THE TABLE: Newcastle follow up with a 10-5 M2 Table Tennis win. They could hit 40 points at this rate...
PLAYING FOR PRIDE: Newcastle have just clinched M1 Table Tennis 9-5. Northumbria coach Dave Godbold: "The boys all played really well. All the games were decent. It was just a shame Newcastle were favourites but the boys put in their all."
6pm: Newcastle University fans look away now. Your Sunday evening is a write-off. It's time to look to 2018. Northumbria lead 66-33.
STICK IT TO THEM: M1 Lacrosse do the business...
Victory for @TeamNorthumbria lacrosse at 6-4. #StanCalvert2017 #TN #TeamNorthumbria pic.twitter.com/t4NznwixRq

— Antonie Thomas (@TNMediaAntonie) February 26, 2017
M2 Futsal and M2 Waterpolo underway at Sport Central. Get down and show your support!
Great news from Netball 1:
Northumbria W1 netball lead 31-19 at the halfway stage! The girls are in control! #StanCalvert2017 🔴⚫️

— Kieran Bullen (@TNMediaKieran) February 26, 2017
Not long left in M1 Lacrosse and Ant Man reports Northumbria lead 6-4. Squeaky bum time.
HOOPS HOOPS HOORAY: W2 Basketball clinch a 49-38 win and the points just keep on coming.
It's 5.30pm and here's the latest:
SCORE UPDATE - Newcastle have taken both M1 & W1 Squash fixtures, taking the overall score to 60-33 ⚫️🔴#StanCalvert2017 pic.twitter.com/Gc4Nl45qPe

— Team Northumbria (@TeamNorthumbria) February 26, 2017
THANK GOD: Newcastle lead 8-4 in M1 Table Tennis but coach Godbold confident of two Northumbria wins ahead of two 'intense' matches.
'Raging' Bullen is in the stands for Netball 1 and M2 Futsal. Multi-tasking. What could possibly go wrong?
There's a big turnout for the W1 netball! 17:00 start #StanCalvert2017 🔴⚫️ pic.twitter.com/tnbc6j110q

— Kieran Bullen (@TNMediaKieran) February 26, 2017
Follow @TNMediaJohnR as W2 Basketball reaches its climax. Just don't look at his Twitter profile picture.
Looks like the Ant Man is loving his Lacrosse...and with a lead that big who wouldn't?
Back on again for the second half of the lacrosse! #StanCalvert2017 #TN #TeamNorthumbria pic.twitter.com/SwUZKjgRWA

— Antonie Thomas (@TNMediaAntonie) February 26, 2017
FROM THE TOP: Northumbria Director Of Sport Colin Stromsoy caught up with 'Raging' Bullen and this is just a snippet from what may well be the longest interview in the history of Stan Calvert. "The guys across every single sport have been superb. We've been competitive in everything, professional in everything, we've been relentless and we've brought in some results across the board that are simply outstanding!"
'Battering' Ramsay reporting an injury in W2 Basketball heading into the final quarter. Hosts are locked in a tight battle for Stan Calvert bragging rights in this one...
5pm: 58-25 Northumbria. Unpacking the bunting...
Netball 1 next up at Sport Central. Always a cracker.
Is that the sound of the fat lady singing on the far side of the Civic Centre?
'CROSSE FACE: Disappointed to report that a battling display wasn't quite enough as W1 Lacrosse went down 19-5 this afternoon.
HOSTS MAKE A SPLASH: All-conquering Swimming coach Louise Graham after another dominant display in the Sport Central pool: "I'm delighted. We had some massive performances. We turned a few predicted losses into wins and won a couple of close ones which got everyone fired up. Then we brought home the 6-0 win so we're very smug, happy and going home with smiles on our faces!" Now for that lap of honour from 'Raging' Bullen....
Brogan still doing all she can to make a late bid for the Media Team with flash reports from the footy:
Lauren Briggs extends @TNwomenfootball's lead to 4-0! @TeamNorthumbria 🔴⚫️ #StanCalvert2017 #MyTeam

— Brogan O'Connor (@BroganOConnor1) February 26, 2017
GREEN WITH ENVY: Newcastle M1 Golf head home for tee and sympathy after a crushing 4.5-1.5 defeat. Overall score moves to 52-25 in Northumbria's favour. Nice symmetry there.
THE ULTIMATE RESULT: It's in. And Newcastle have pulled off a 12-7 win. Ultimate Scmultimate.
KING JAMES: M3 Basketball skipper James Mead: "That was a good win. We played hard early so we could go out and enjoy ourselves for the rest of the game and have some fun. I'm happy to continue the winning streak against Newcastle and go out with a bang."
'Battering' Ramsay's on a role after catching more Stan Calvert wins than could reasonably be expected of a Media Team rookie and now he's all over the W2 Basketball at Sport Central. "Northumbria lead 13-10 with seven minutes to go until half-time," he revealed. Follow him here @TNMediaJohnR
4.30pm: And that's the half century up. Overall score Northumbria 50 Newcastle 23.
'Nerves Of' Steele getting the lowdown from coach Dave Godbold at the M1 Table Tennis. Looks like this one will go to the wire. Updates via @TNMediaLottie M2 Table Tennis fighting to stay alive.
'CROSSE WIRED: It's early days but M1 Lacrosse already 2-0 up at Longbenton.
Another great win from Sport Central!
A convincing score line for Netball 2s! #StanCalvert2017 pic.twitter.com/DLuH6smJlz

— Jen Rudin (@jenrudin) February 26, 2017
4.15pm: Overall score 48-23 in Northumbria's favour. Looking good...
POOL CUE: 11 Northumbria wins from first 14 races in the Swimming. Second half upcoming...
SCRUM ON YOU POLY! W1 Rugby Union have beaten Newcastle. And beaten them by 34 points! It's why the term 'one-sided' was coined.
Great to hear from former Stan Calvert-winning pres Brogan - enjoying some footy on this super Sunday afternoon:
Half time at Women's Football and the W1 are beating Newcastle 2-0. @TeamNorthumbria 🔴⚫️#StanCalvert2017 #MyTeam

— Brogan O'Connor (@BroganOConnor1) February 26, 2017
2013: The year Barack Obama won a second term as US president, Nelson Mandela passed away, Prince George became third in line for the British throne, Andy Murray won Wimbledon, Sir Alex Ferguson retired and...Newcastle University won the Stan Calvert Cup. Seems like a lifetime ago.
Coming up at 4pm: M1 Badminton, W2 Basketball and M1 Lacrosse.
'Raging' Bullen is really getting into his Swimming...so much so he's ready to strip down to his Speedos and do a victory jig poolside if Northumbria pull off the win (apparently). Sounds like a fantastic start with win doubles for Hill and O'Halleron in the men's event. Follow all the action via @TNMediaKieran
When she's not shooting hoops @RachB8 is giving Northumbria fans the lowdown on Netball! Is there no end to this woman's talents?
SCORE UPDATE: Start of the 3rd quarter over at @TNNetball. W2 still looking strong and leading 38-19 ⚫️🔴

— Rachael Bland (@RachB8) February 26, 2017
3.45pm: Overall score 46-23. Northumbria have twice as many Stan Calvert points as Newcastle. Twice as much passion. Twice the talent. And three times the number of Stan Calvert wins in the last three years.
MAUL OVER: Disappointment for M2 Rugby Union as they go down 27-17. W1 lead 15-7.
And thanks to Owen 'Goal' it's all becoming clear why Ultimate fully deserves its fabulous name. Apparently teams switch ends after every point is scored so on a blustery Stan Calvert Sunday both sides get the benefit of a good old fashioned North East gust. What a rule! What a sport!
3.30pm: And that M3 Basketball win takes the overall score to 46-21 in Northumbria's favour. All over bar the shouting? Well there'll be plenty of that before close of play but we're predicting the holders will hit the half century within the hour...
'Welcome' Back to Media Team vet Steven - he's been keeping an eye on his beloved basketball this afternoon:
another win for TN! M3 basketball cruise to a 91-49 win #StanCalvert2017 #myteam pic.twitter.com/xE8TFqQAVX

— Steven Back (@TNMediaSteven) February 26, 2017
THE ULTIMATE UPDATE: As predicted the wind is a key player at Coach Lane with Northumbria 3-2 up approaching half-time in Ultimate. Our man Thoms: "Conditions playing a part - all points scored down wind." How does that work then?
Heading to the pool? Here's all you need to know about who's swimming and when. But be quick. This event's always over quick as a flash:
Here's the line up for all of the action in the pool! #StanCalvert2017 🔴⚫️ pic.twitter.com/C8oRf2yO7G

— Kieran Bullen (@TNMediaKieran) February 26, 2017
Half-time at the W1 Rugby Union and Northumbria lead 5-0. What a win that would be!
SORE POINT: It's bad news from Newcastle Fencing Centre where Northumbria M1 and M2 lose. That takes the overall score to 44-21. Newcastle reduce the deficit to 23 points.
And 'Nerves Of' Steele is keeping her eyes peeled on the Table Tennis as M1 and M2 do battle inside Sport Central.
'Raging' Bullen is live poolside for the start of the Swimming. Always a fantastic atmosphere - just hope he remembered his little blue slip-on shoes.
Loving this from M2 Badminton:
MENS 2 DO THE DEED AGAIN!! Division below but manage a 5-3 victory!! 4th time in a row even though expected to lose!! Well done boyz pic.twitter.com/NXFZ8M0M0C

— Northumbria Badders (@TNbad_minton) February 26, 2017
ULTIMATE BLOW? According to Owen 'Goal' Thoms the strength of the wind might determine just how brilliant this afternoon's Ultimate clash proves to be. It's difficult to imagine how the best sport ever could be affected by the weather...
Looks like Newcastle M2 Rugby Union are starting to take a grip on their Cochrane Park clash. Ant Man: "Hosts lead 21-10 after bagging a converted try." W1 Rugby Union looks pretty tight - 0-0 after the first 20 mins.
They said it would never happen but 'Raging' Bullen has finally surfaced at Sport Central:
Ready to go at Sport Central for this year's finals day! #StanCalvert2017 ⚫️🔴

— Kieran Bullen (@TNMediaKieran) February 26, 2017
3pm: A win for M2 Badminton and a defeat for Netball 3 takes the overall score to 44-17. Newcastle edging closer to the magic 20-point mark...
Expecting big things from Ultimate. Let's face it, you don't call your sport Ultimate if it's rubbish. It's the ultimate, the best, the sport without equal. And it's happening in five minutes at Coach Lane. Prepare to be amazed.
There's a raft of big matches due to start at 3pm including W1 Football, Netball 2, Squash M1 and W1, Swimming, Table Tennis M1 and M2 and Ultimate. Our man Owen is off to Coach Lane to cover the Ultimate action now...
GODBOLD'S GIRLS GO DOWN FIGHTING: Just in from Gee Force: "Newcastle W1 Table Tennis won the doubles decider to take the match 3-2 but it was a brilliant performance. Just hope the men's match is this good."
COR BLIMEY: M2 Badminton take 1-0 lead through Elliott Corbell following a tense three-ender.
Ant Man is buzzing (do ants buzz?) after his W2 Football win and he's hot footed it across to what looks like a typically tight M2 Rugby Union clash. It's 7-7 approaching half-time.
Great news from the Gaelic Football pitch!
@TeamNorthumbria Gaelic smash Newcastle 23-9 for another 2 points. Great game and application by the lads #StanCalvert2017 #legends pic.twitter.com/bn3JVnSRxo

— Col Stromsoy (@cstromsoy) February 26, 2017
TONG'S ON SONG IN PING PONG: Dave Godbold praising Cheris Tong's backspin on the backhands as she bags a brilliant 3-0 win in W1 Table Tennis. "Her multi-ball training is really paying off and she's been exceptional," said Godbold. "It's getting very tense going into the doubles at 2-2." Who knew there was multi-ball training in table tennis? Wonder what other balls they use? The mind boggles...
2.30pm: So it's 40-11 to Northumbria overall. Just take a moment to read that score again. Now nobody would dream of getting complacent - and we've all got Director Stromsoy's words ringing in our ears - but WHAT A LEAD!
IT'S ALL GONE CHERIS TONG: Newcastle W1 Table Tennis finding it tough to contain Northumbria star Cheris Tong as she goes 2-0 up in the lion's den.
TABLES TURNING? Gee Force reports Newcastle have bagged a 4-0 W2 Table Tennis win. But the firsts are still fighting fit!
FOUR-MIDABLE: Ant Man reports on last minute goal and 4-1 win for W2 Football
@TeamNorthumbria @TNwomenfootball seal the game in the final minute with a fourth goal! FT: 4-1 #StanCalvert2017 #TN #TeamNorthumbria

— Antonie Thomas (@TNMediaAntonie) February 26, 2017
'BAD' NEWS: It's 1-1 in the W1 Table Tennis clash at the NU Sports Centre and this is what club president Michael Charlton had to say ahead of what could be a fascinating M1 Badminton fixture from 4pm. "Our M1 team have won the league and cup and although we have a couple of injuries I believe we will take all the points available," said MC. That's what we like to hear. Bring it on!
Gee Force has made it into enemy territory and got the lowdon from Table Tennis coach Dave Godbold. "Looking at Newcastle's players it could be tough for us," Godbold told our man Danny. Dave's never been one for being overly optimistic but he's the master of the mind games...just saying.
Next up we have W1 Badminton, M3 Basketball, W1 Lacrosse, M2 Rugby Union and W1 Rugby Union - all due to start at 2pm. Some big, big games in there...
GOAL FLASH: The Ant Man reporting that W2 Football have scored twice in five minutes to go 3-0 up.
Student Sport pres Emily is dipping her toes into the murky waters of Gaelic Football:
Now over at the Gaelic football....something I've never watched before so sorry if I don't know the rules yet! @TeamNorthumbria pic.twitter.com/wsHUrF32Wz

— Emily Watkinson (@Emily_Watkinson) February 26, 2017
So it's 1.45pm and that's an overall lead of 38-11. It's got to be tough for those Newcastle athletes yet to lock horns with their Northumbria counterparts knowing they've got the proverbial mountain to climb just to get back on level terms. And there's not even anyone there anymore who remembers what it's like to win Stan Calvert...
Golf news just in:
SCORE UPDATE! A 6-0 win for M2 @TNGolfSquad takes our lead to 38-11 in #StanCalvert2017 Outstanding work guys! Still a long way to go.⚫️🔴 pic.twitter.com/zOGvFqN3qV

— Team Northumbria (@TeamNorthumbria) February 26, 2017
W1 and W2 Table Tennis getting underway at NU Sports Centre NOW. Get down and support if you can and cheer the Poly ping pongers all the way to victory!
Hearing M2 Badminton got off to a flier at NU Sports Centre and leading 2-1...
HT: 1-0 to @TeamNorthumbria @TNwomenfootball and looking the more likely to extend the lead. #StanCalvert2017 #TN #TeamNorthumbria

— Antonie Thomas (@TNMediaAntonie) February 26, 2017
HEAT ON IN HEATON: Just heard Tom Robinson has landed at Heaton Sports Ground to catch the closing stages of W2 Rugby Union - that one kicked off at 12.30pm. Go girls! Follow @Tomtom1994 for updates.
REID ALL ABOUT IT: A fantastic win for Athletics at Gateshead and the 'Battering' Ramsay caught up with delighted skipper Dan Reid. "I'm buzzing with the result," he said. "We had a couple of drop outs but on the day we've pulled together!" Well said Dan. Heard a rumour Ramsay's hot footing it to Sport Central as we speak...
The big news of the day so far is a brilliant 10-2 Tennis win and an outdoor Athletics triumph which brings the net total to 36-11 in our favour!
Just congratulated our @TeamNorthumbria @NorthUniTennis Women on another Stan Calvert win 10-2. Dominant as in previous years. Legends

— Col Stromsoy (@cstromsoy) February 26, 2017