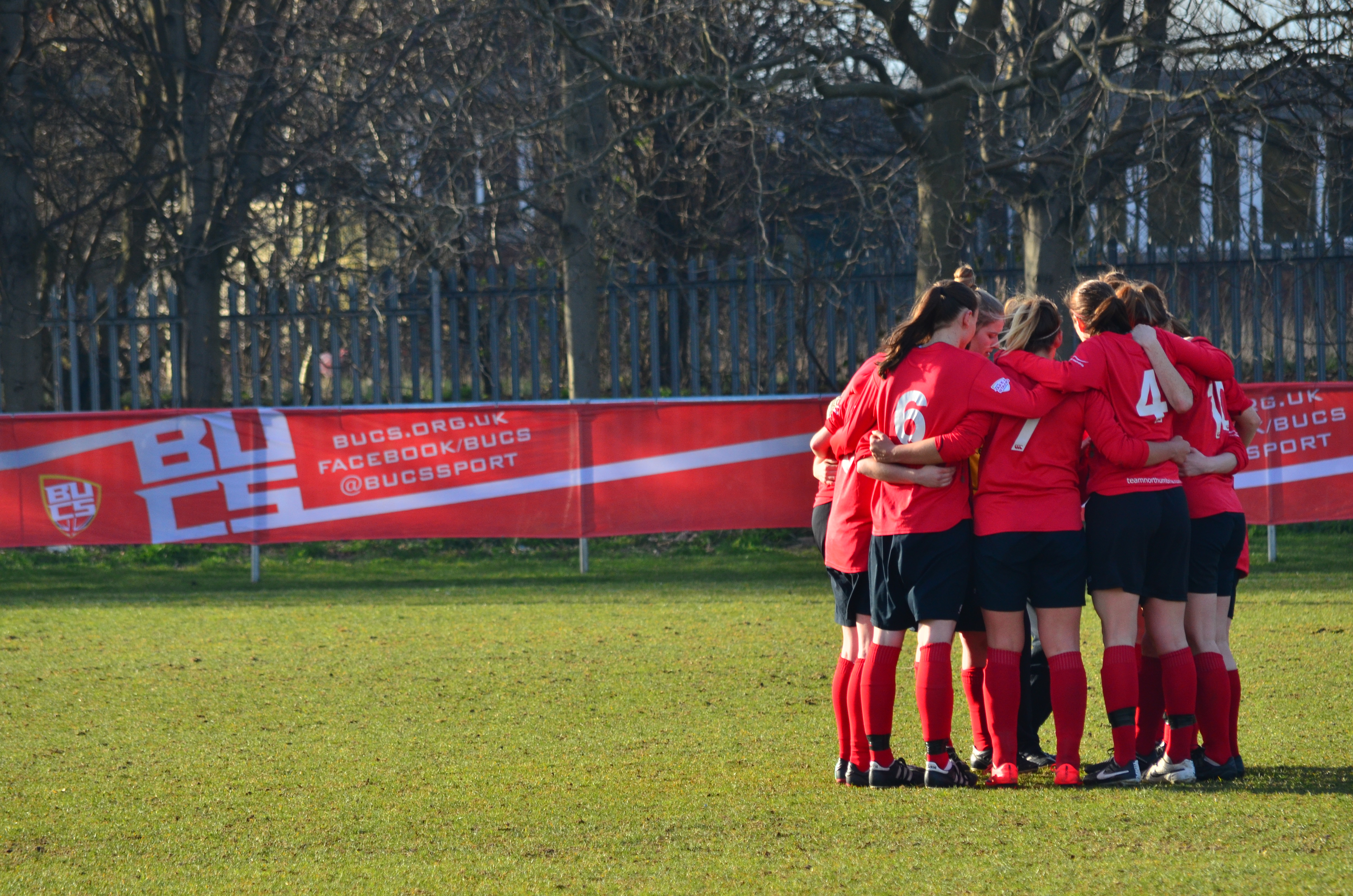 The FA has encouraged girls across the country to get involved in football this autumn and the students at Northumbria University met the challenge head on as they got stuck in to a week of exciting events.
The FA first dreamt up the idea of Girls' Football Week back in 2015 in an attempt to raise the profile of the women's game and drive an increase in involvement at all ages and ability levels. Schools and community groups enjoyed a similar week back in April but the focus this time was targeting higher education establishments.
"Northumbria sport loves to get involved in everything and anything and this was the first big national BUCS campaign of the year," said sports president Emily Watkinson.
"We thought it was perfect as we already run so many football opportunities within Team Northumbria and NORTH - it's a great campaign promoting women's involvement in sport and something that we as an organisation are really trying to encourage.
At the start of a special week of events those involved either observed or participated in the W1 Football training. This provided an opportunity to see some of the university's top players in action and also find out some of the reasons why they take part.
"Playing football has allowed me to develop as a person and a player," said the W1 team captain Niamh McLaughlin. "It has given me the experience of visiting countries and cultures I never would have if it wasn't for football.
"Whether it's to play competitively or just for fun, come along and meet some people as it's a great way of socialising."
Tuesday and Thursday saw a number of different challenges and demonstrations going on around the university including a 'keepy-up' challenge, opportunities to 'beat the keeper' and skill displays by the Futsal team.
"It wasn't only about football," added Watkinson. "There were people from a range of sports such as hockey, basketball and rugby who all tried something new, and loved it!"
The media interest continues to grow as the Olympics and World Cup take centre stage. Women's sport is gaining more and more coverage and as a result, it's becoming more and more popular.
Newcastle United manager Rafael Benitez knows as well as anyone the value of their presence in the game. The former Liverpool and Real Madrid boss spoke to Northumbria University to share his thoughts on its increasing popularity and the importance of events such as FA Girls' Football Week.
"I have always been following women's football," said Benitez. "I watched games everywhere. I went to America and I couldn't play football on my holidays on the weekend because it was just women playing here, women playing there!
"I really like women's football and that was great to see. I think it's good for everyone because it's a team sport. The team spirit that this brings is always good for society."
On Wednesday the first and second teams were faced with tough away fixtures as they began their 2016/17 BUCS campaigns. W1 football coach Amber Whiteley was full of praise for her team.
"The W1 win over Birmingham in the BUCS Premier North was definitely my highlight of the week. It was a tough game away from home but we pulled off a brilliant team performance and ran out 3-1 winners to keep us top of the table," said Whiteley.
The week culminated with a NORTH open training session at Coach Lane on Friday evening where the girls enjoyed a number of drills put on by coach Jill Stacey.
"I went down with some of the hockey team to join the session and it was a really fun night. It gave us an opportunity to try out a sport some of us had never played and not take it too seriously," said volunteer Samantha Orridge. "It's never too late to start and NORTH football at Northumbria is the best place to start."
"I'm so pleased the University decided to take part. We have seen a huge number of people involved because of the awareness and profile of Girls' Football Week," added Watkinson.
If you're interested in getting involved, the NORTH women's football session runs every Friday from 5pm – 6pm at Coach Lane.