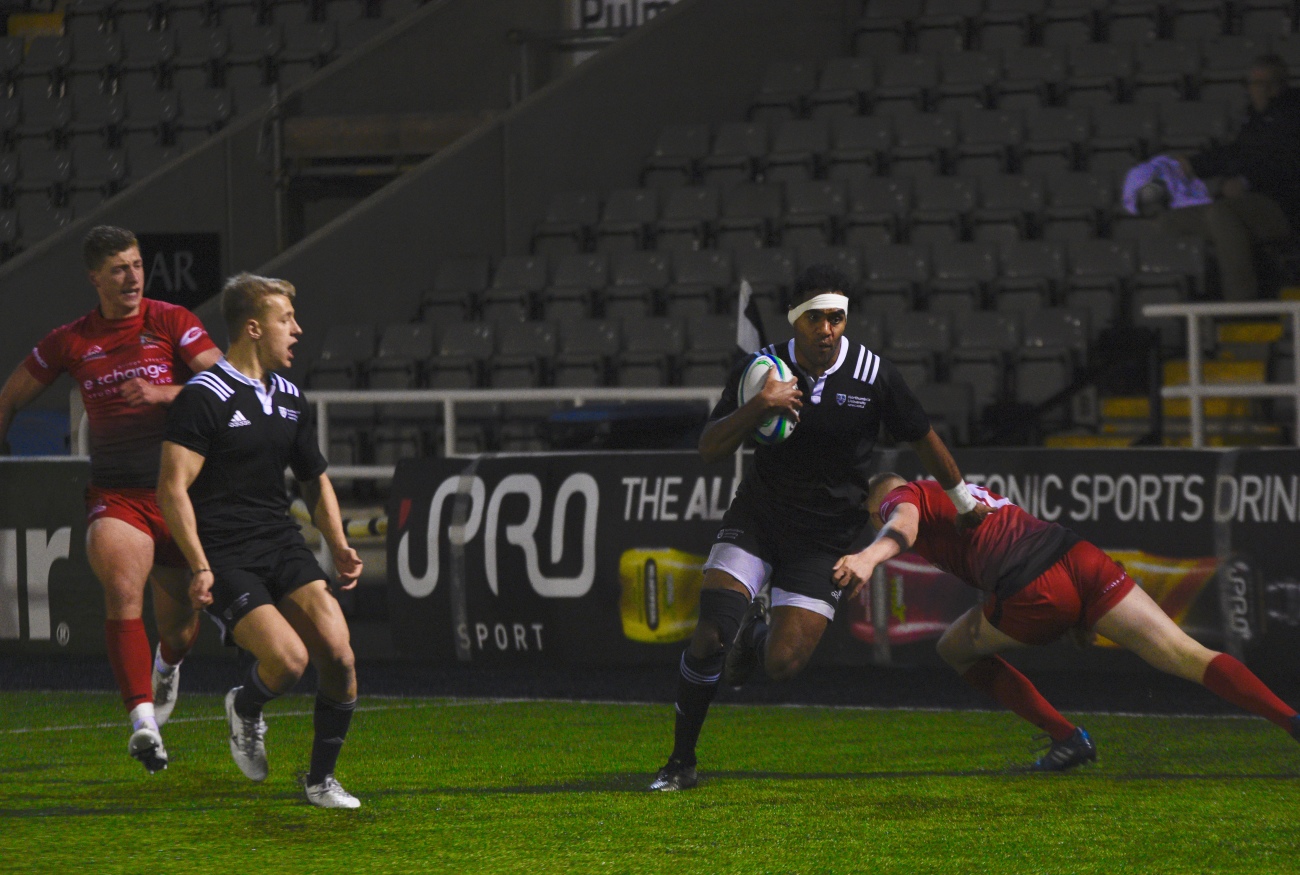 In what was a thrilling advert for BUCS Super Rugby, Northumbria Sport M1 Rugby Union managed to pull off a magnificent comeback against Cardiff University on a wet Kingston Park evening.
The two sides were at the opposite ends of the table, with newly promoted Cardiff not having registered a league win this season.
Despite their league position, the visitors from Wales came out of the blocks flying, stunning the Kingston Park faithful into an eerie silence as they raced out to a 21-3 lead.
Things were beginning to look bleak for Northumbria, who had not lost a home game since facing off against Leeds Beckett last season.
But, a moment of sheer brilliance from George Wacokecoke provided the spark to get a slumbering Northumbria rolling with the outside centre racing over from the half way line to score the home sides first try of the night.
The second half was a vintage attacking Northumbria display, with Wacokecoke and Yaree Fantini also dotting down to give Northumbria a slender lead.
Cardiff, not to be deterred replied in quick fashion to regain the lead with a try of their own only to have Northumbria snatch it straight back from thanks to the boot of Josh Hodge who slotted a penalty from far out – his 19th kick in succession.
But Cardiff would not give up and a penalty of their own in front of the post handed visitors the lead again.
What followed was a moment that sent the Kingston Park crowd into rapturous scenes.
With only minutes left, full back Josh Hodge received the ball out wide before managing to dance his way through the Cardiff defence to go over under the sticks to hand Northumbria an unbelievable comeback win, with the contest finishing 34-29.
And speaking after the game, head of rugby Darren Fearn admitted he was disappointed with his sides performance despite their second half heroics.
"Fair play to Cardiff, they threw it at us," said Fearn.
"That was the worst first half performance I've seen from us since probably my first year here at Northumbria.
"It was abysmal - we were inaccurate, we made bad decisions.
"They went down to 13 and it looked like we were down to 13.
"We didn't make the most of our field position, we gave a penalty away every time we were in their half or we forced something.
"It was just really naive rugby - that sums up our first half performance, naive.
"There were some real moments of genius in the second half.
"Josh Hodge scored his try from a nice play call and of course it was nice to get the five point win after starting out slowly.
"I'm not happy with our performance.
"We need to be better ahead of Exeter.
"We're three years into this journey and the lads just need to step it up now
"We need to be more consistent."
With the game in the balance, Northumbria needed their leaders to step up.
And despite his disappointment, Fearn did admit that he was pleased with the performances of several individuals within his side.
"We needed to change things up in the second half - so we moved George Wacokecoke to 10.
"We were chasing the game - Waka is probably one of the best open field runners in this league and we needed him on the ball more so that's what we did.
"I've known him for the last four years and I can honestly say he's one of the most talented players I've come across.
"He wasn't at his best in the first half, but he turned it on and really helped us out in the second.
"Josh [Hodge] is only 18 years old. He's learning every game and he's been brilliant this year for us - he's still not missed a kick!
"He'll look through his game with the coaches and he'll learn from it.
"We saw what he was capable of with that try he scored to win it for us.
"Oli [Robinson] is a quality player.
"He's a leader for us and he always steps up.
"Some of the forwards tonight didn't want to step up tonight - they were lazy.
"Oli wasn't and he optimised what it was all about with his second half performance.
"I thought Mike Walton really called the line outs well and Yaree and Anthony [Harrison] worked endlessly.
"The rest - we need to see more from them."