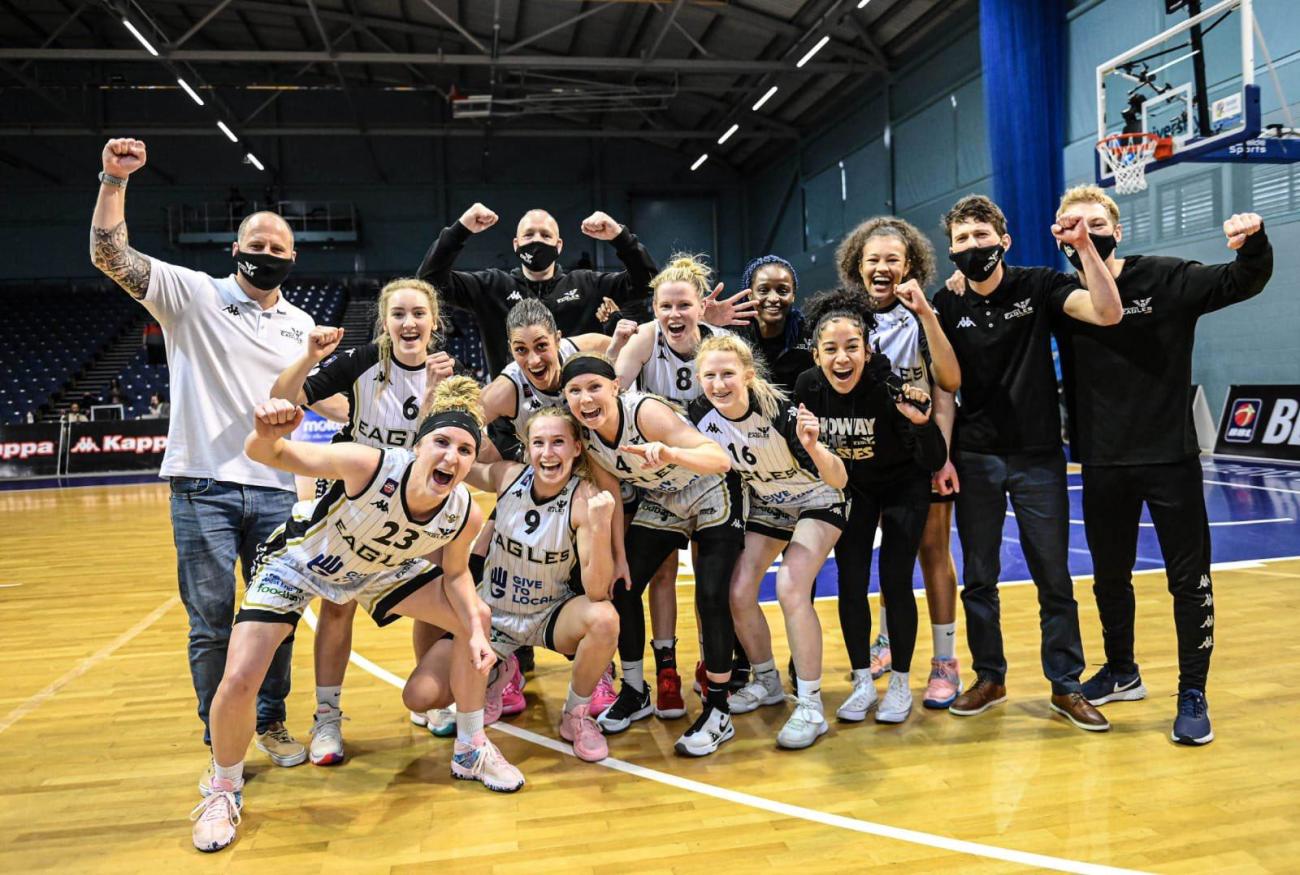 Six Northumbria students have been leading the charge towards a history making season for the Newcastle Eagles in the national Women's Basketball League (WBBL).
The 7th seeded Eagles, caused upset as they progressed through to the playoff's final of the national competition by beating the number 1 seed and other favourites along the way.
Northumbria University shares a strong link with the Eagles with University Head of Women's Basketball, Chris Bunten, also Head Coach for the Eagles
The Northumbria Students are balancing their study along-side their basketball commitments with a diverse range of academic courses being studied by the 6 plus Alumni Alison Gorrell who also makes the Eagles roster;
Rachel Bland (Health and Life Sciences PhD 5th year),
Maddy Mcvicar (Mechanical Engineering Msc 1st year),
Abbey Lowe (Creative and Cultural Industries Management Msc 1st year),
Marina Fernandez (Exercise Science MRes 1st year),
Millie Oats (Business Management 2nd year),
Mollie Arnold (Sport Management 2nd year),
Alison Gorrell (Sport Psychology Masters, Northumbria Alumni)
In a strange year for sport, the players have been without the British University & College Sport (BUCS) competition but have been able to continue to take to the court in the top tier WBBL competition
Chris Bunten was reflective about the year:
"This year has been tough for a lot of students across the world due to the Pandemic, we feel very fortunate that our professional league has been able to play throughout and has allowed us to escape the confines of lockdown and made us realise how fortunate we are to have basketball".
It all comes down to the final game this coming Sunday (16 May). The Eagles are in a chance of pulling off the ultimate upset in WBBL history, being complete underdogs at the start of the play offs. They have shown their dominance and commitment to the sport, Bunten adds:
"The pressure is purely on London, so we go down to the final with a smile on our face, able to enjoy and speak up about the entire experience, and if we continue to play like this anything is possible."
The Women's WWBL Play-Off Final will be shown live on the Sky Sports Youtube Channel, with the game due to start at 3pm. For Sky Sports subscribers the game will also be shown on Sky Sports Arena and Sky Sports Mix.
If you want to know more about the Scholarships and our Athlete Support Services which we offer at Northumbria, you can find out more here.