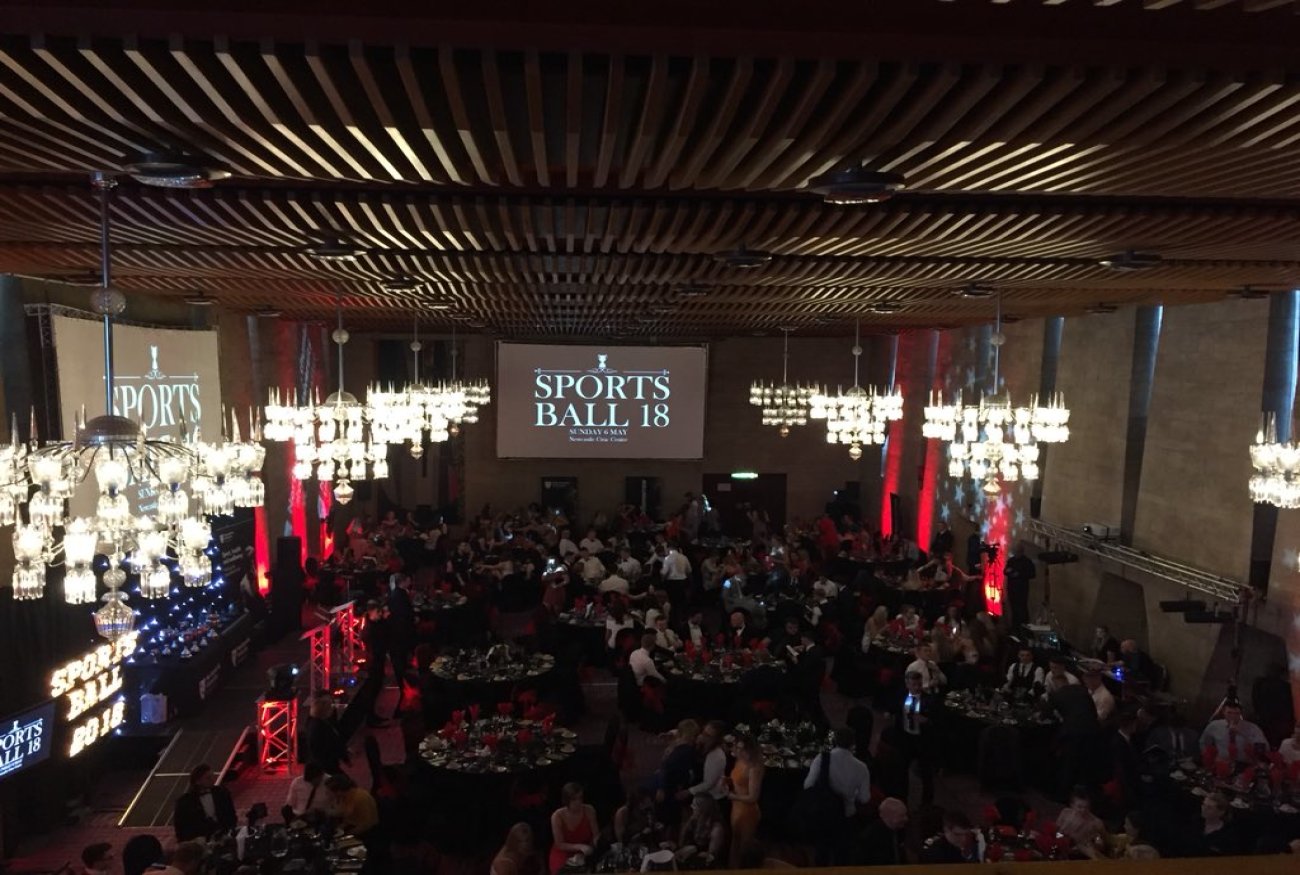 More than 400 students and staff descended on Newcastle's Civic Centre as the great and good of Northumbria University sport celebrated another landmark year.
Just weeks after Northumbria bosses revealed new branding and the aspirational 'Take On Tomorrow' slogan, the university's sporting stars proved they're already primed for future success.
Fourteen awards were up for grabs and Pro-Vice Chancellor (International) Prof Jon Reast hailed a terrific 12 months of sporting action before handing over to host Kerry-Anne Hastings.
Hastings, the 2017/18 Northumbria Sport President, said: "I have enjoyed four amazing years here but the last 12 months in my current role has really capped it off.
"It's been an amazing year for sport at the university and I've loved every minute – meeting so many inspirational student athletes, passionate coaches and incredible staff.
"Every one of the award winners deserve recognition but sport at Northumbria is about celebrating success across the board."
Northumbria will again finish in the top 10 of the BUCS national rankings with eighth place in their sights.
And the sporting heavyweight defeated fierce rivals Newcastle University by a record margin earlier this year to claim a fifth successive Stan Calvert Cup win.
Northumbria University Director of Sport Colin Stromsoy added: "I am so proud to be in this role and to work with so many committed teams and individuals.
"Everyone involved with Northumbria Sport epitomises the ethos of Take On Tomorrow and the annual Sports Ball is evidence of a community striving for excellence now and in the future."
The Commitment To Sport award, recognising an individual who has made a major controbution across all areas of sport, went to Team Northumbria basketball star and Volunteer Zambia student Jack Preston.
The Northumbria Sport Volunteer award went to Hannah Dawson just 12 months after she clinched the Unsung Hero award. Dawson's dedication to the Northumbria Sport Foundation's Knockout Sisters project and her addition to this year's Volunteer Zambia team secured a second successive prize.
The NORTH Individual Performance of the Year went to powerlifting's Stephanie Carrillo-Chavez after she broke seven divisional and eight regional records this year on her way to selection for the Great Britain team.
The Team Northumbria Individual Performance award was one of the most hotly contested. And after a fantastic year of BUCS Super Rugby, captain Oli Robinson picked up one of the night's biggest prizes, adding to his BUCS Super Rugby Player of the Year title.
NORTH Coach of the Year went to boxing's Callum Blades after he oversaw the growth of the programme from 30 students to 67. Dave Goodchild was a worthy winner of the TN Coach of the Year prize after he guided his men's and women's volleyball squads to nine out of 10 domestic titles in 2018.
Northumbria Sport's Media Team were awarded the Intern Team of the Year prize after judges noted they has received 'external as well as internal praise for their professionalism and dedication to sport'. Media Manager Simon Rushworth said: "I have been fortunate enough to work with scores of talented young journalists for more than a decade at Northumbria University with many going on to work in local, regional and national media. The current group is among the best and they have the potential to be stars of the future."
Men's tennis seconds clinched the Stan Calvert Performance of the Year award after defeating a Newcastle University team two leagues above them. And NORTH Karate claimed the NORTH Club Competitive Performance of the Year award.
Women's firsts table tennis completed the treble in 2018 and their efforts were rewarded with the Team Northumbria (Tier One and Below) Team of the Year prize. Men's and women's volleyball firsts clinched the Premier Tier/National League Team of the Year.
Meanwhile coach Claire Harper picked up the NORTH Club of the Year prize after wheelchair basketball enjoyed a standout 12 months.
Rugby League were popular winners of the Team Northumbria Sport of the Year award after dominating the domestic scene and an incredible night of sporting success was capped off by the presentation of Sports Personality of the Year to women's football star Lizzie Patterson.