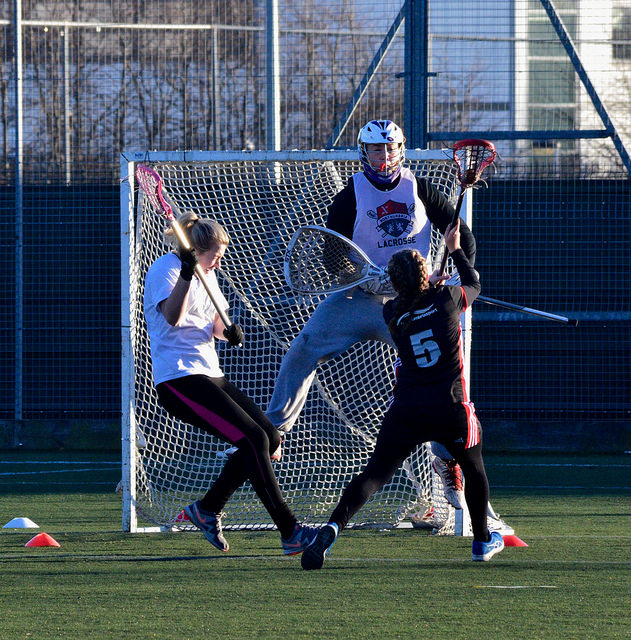 Northumbria University made giant strides in strengthening the 'alumni family' - hosting the first ever Northumbria Sport Legacy Cup.
Saturday saw Northumbria students, past and present, gather at Coach Lane to compete in a no-holds barred cup competition.
An array of Team Northumbria clubs got involved, as well as a considerable number of former Northumbria students who'd travelled from all over the globe to relive their university experience.
Much of the credit must go to student Sport President Emily Watkinson, who was the driving force behind setting up the event.
"It was one of my ideas at the start of the year," said Watkinson. "I wanted to accomplish setting up the Legacy Cup because we've always wanted to do it.
"It's been difficult finding the correct dates to suit everyone, as we wanted loads of sports involved – luckily, we managed to get a large number of people participating!
"It's not just about the sport, we've linked up with the alumni department and really tried to make it a university event that's as much about the competitors as the spectators, who all made amazing efforts to come.
"More than 60 alumni students were here competing and watching, so between the ex-students and current students, I'm hoping it's going to be something that keeps going for years to come."
The previous week's unpredictable weather had threatened to disrupt the event. But a snow-covered AstroTurf was no match for Watkinson and her team, who battled the elements armed only with shovels.
"I turned up thinking it was going to be cancelled or moved indoors," she added. "The pitch was covered in snow and ice, so I spent a couple of hours with the team moving all of the snow – luckily it worked!"
Members of TN and team alumni all fielded teams on the day in lacrosse, football, netball and hockey, competing to top the scoreboard, win the cup and gain the bragging rights.
Former student and hockey alumni captain Ali Sedcole, admitted the event would have seen even bigger numbers but for travel expenses and other commitments associated with adult life.
"I knew coming into it that there were a lot of people interested," said Sedcole. "Unfortunately due to how far away they live and family commitments, it was difficult to get huge numbers.
"We did have a girl fly over from Germany to play, and she hadn't played in two years - so it was great to see all of those who no longer play getting involved!"
Team alumni captain Sal Sinawi, also deserves special recognition for his efforts to raise exposure of the event, gain numbers and ensure the correct captains were chosen to guarantee a competitive occasion.
"It was a hugely successful day," said Sinawi. "The big thing is that TN has been such an important part of everyone's lives and now that we're not at university anymore we miss it hugely.
"University is the best years of your life and when you leave you realise how much you enjoyed it and how much you miss it – events like this are so important, because you get to catch up and reminisce.
"Northumbria University is a family, that's the best thing about it – no matter where you are or what you do you've got a network there, and it's amazing to reconnect with everyone!"
It was a hugely successful day, which saw a number of very tight score lines. As expected, TN won the majority of the fixtures, and as a result were crowned Northumbria Sport Legacy Cup champions for 2017.
However, the result was far from the most important thing on the day. The significance of the relationship between current students and Northumbria alumni was unmistakeable.
With any luck, the event will continue for years to come and create a lasting legacy at Northumbria University.