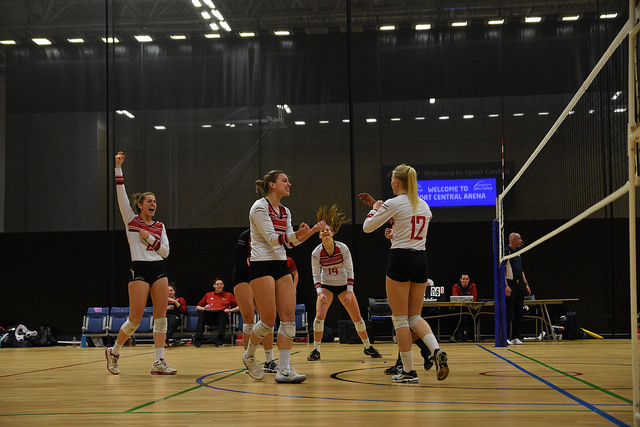 Team Northumbria women's volleyball rounded off another remarkable regular season, securing their fifth Super 8s Championship title.
The hosts faced City of Salford and Team South Wales in a double-header at Sport Central, winning both games without losing a set.
"Our results guarantee us the Super 8s championship, which obviously we're delighted with," said head coach, Dave Goodchild.
"We wanted to come out of the day with two 3-0 wins and no injuries going into the BUCS final on Wednesday.
"Having two games within a few hours of each other was tough, so we had to rest three players and go into these games with only eight.
"But we were comfortable all the way through. We made a few unforced errors but it's very difficult to get yourself up for a game you know you're going to win.
"The fact that we can play two games in a day is impressive, not many teams could do that and win them both.
"The strength and depth that we've got in the squad is great - everyone can play and the squad never gets weaker.
"It's testament to how good they've been - the girls are just cruising, they're having fun and enjoying themselves, which is what it's about."
TN face Team Durham in Wednesday's BUCS championship final, as they attempt to win their third consecutive title.
"Obviously we're struggling with injuries and we've potentially lost another player tonight so we'll need to see how she feels and it's a concern ahead of the final," added Goodchild.
"We've worked on our offence and our serve pressure, which are things we're going to need if we're to beat Durham on Wednesday.
"It's going to be a great game and it's going to be a tough game. But if we play our best we'll win."