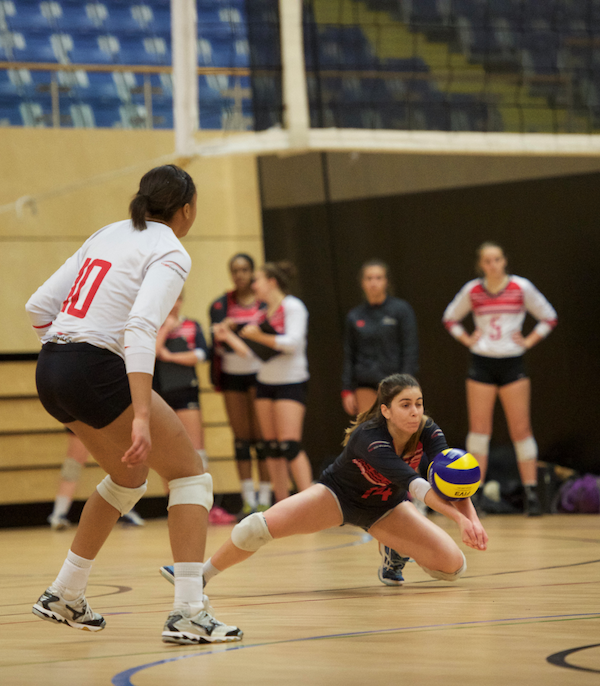 Team Northumbria women completed a vital double over Super 8s title rivals Team Durham on Saturday with a potentially pivotal 3-1win.
Head coach Dave Goodchild was delighted with TN's performance on Saturday as they were able to come back from losing the opening set to clinch a decisive victory (20-25, 25-20, 25-21, 25-21).
"The belief and resilience in the team continues to shine through," said Goodchild. "We were 1-0 down and then we turned it around with some big performances from individual players.
"Paige Fullerton came back and did a really good job. Katie O'Brien had visa issues so only came back on Thursday night - she had one practice session but she played really well.
"Beating Durham twice in the league now gives us a really good chance of winning the Super 8s."
The women capped off their stellar weekend with a straight sets win over Pulsepoint London Orcas (25-18,25-20, 25-9) on Sunday in Stockton.
The pair of victories leaves TN unbeaten in the Super 8s campaign as they've won all seven of their fixtures and coach Goodchild remains confidence for the rest of the season.
"Today the team really gelled - even though they were third or fourth in the league the difference in class was evident," added Goodchild.
"Whitney (Phillips) was phenomenal. She passed 13 balls to perfection and was really back to her best.
"I think the way Juri (Jurja Vlasic) is developing as a setter is really allowing the offence to flow and credit to her as she really puts the hard work in.
"I am confident in this team. We are getting better and better, we are building, we have a system and it's something that we stick to.
"We need to peak at the right time for the finals but the girls work hard and they know what they need to do to win it."
TN men suffered their first loss of the season on Saturday, losing 3-2 (16-25, 25-20, 19-25, 26-24, 25-12) to Malory Eagles after travelling to the capital without a coach and two key players.
"It was really difficult because we were missing Seain Cook and Peter Bakare who are two huge players," added TN's coach. "And we know Malory are a decent team.
"We'll learn from our mistakes. Wwe know we can turn that result around and we have a big game against Polonia in February which will probably decide the Super 8s.
"You learn more from defeats than you do from winning and we'll take away our positives from the game and build on our weaknesses and we'll fix them."