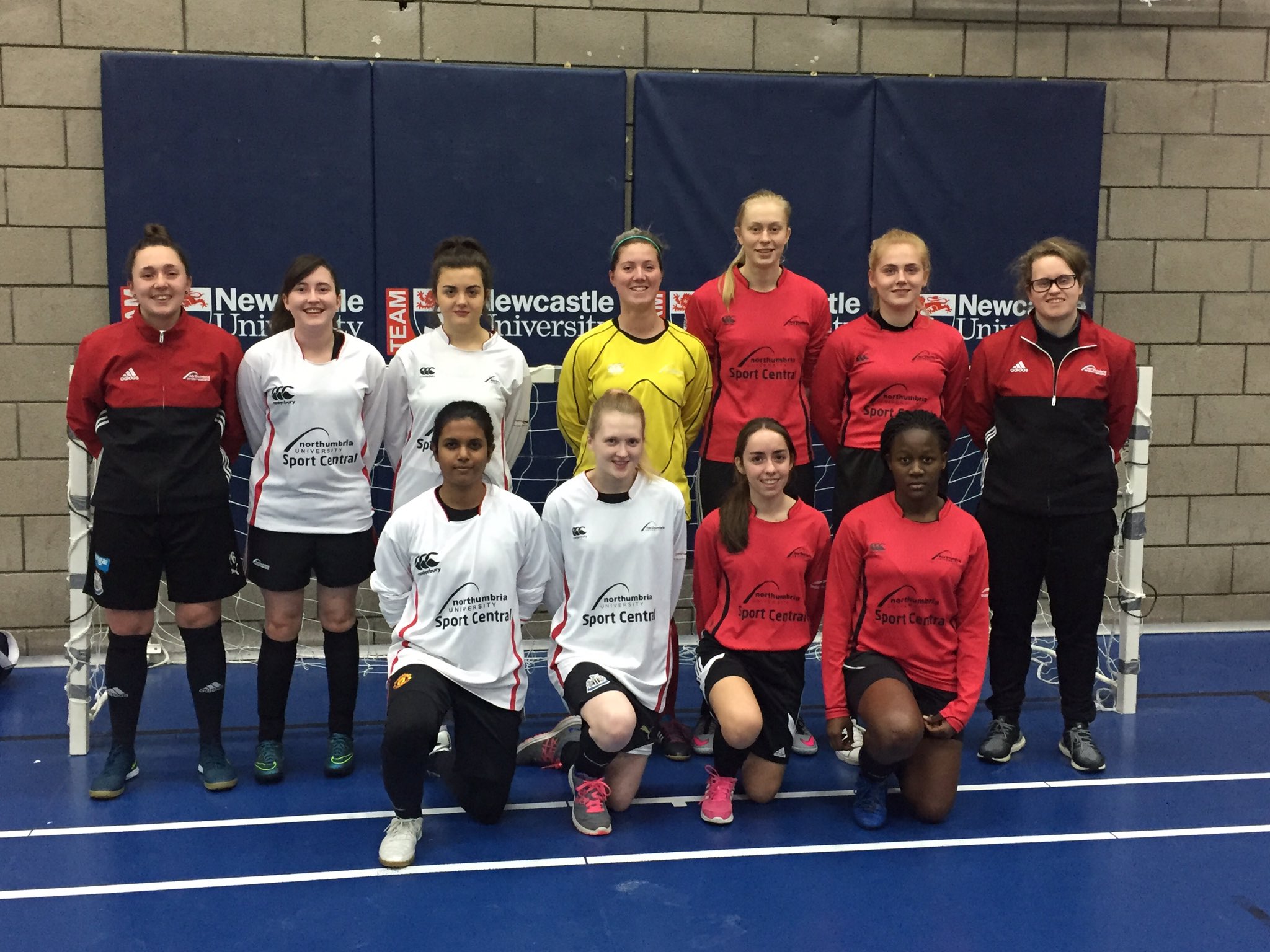 At 7pm on December 4th Northumbria University's NORTH football team took part in a fun filled five-aside round robin tournament with rivals Newcastle University. The tournament consisted of 4 Newcastle teams, and 2 Northumbria teams: with an outstanding amount of goals coming throughout the evening.
There were 49 goals scored within all 8 games, with NORTH Women producing an amazing 39 of the goals. Although the girls definitely came out on top winning 5 of the 8 games played, there were definitely some close and physical games played.
To kick start the night NORTH (RED) played a Newcastle White side, the NORTH girls did great to stay patient and build up play throughout the first half. Chances were created and the girls pushed for a goal, however the Newcastle goal keeper did great to keep them in the game. In the second half goals finally started to come from both sides, with every NORTH goal, a Newcastle goal followed. The match was tight and started the tournament off with a 3-3 draw. Similarly, on the other side of the hall NORTH (WHITE) were playing a close nit game with Newcastle Blue which saw another Newcastle goalkeeper doing great to keep their team in the game. Equally, with our very own Samantha Orridge playing outstanding to keep her team in it. After a disallowed goal by Newcastle, NORTH started to put the pressure on. Laura Waters and Rhea Ramjus started to link up well and create more chances for the whites and then finally the goals came. NORTH (WHITE) did well to build play up and win their first game 2-0.
The games after this saw both NORTH teams build their confidence and start to play really well together as a team throughout the night, creating more goals and playing with a smile and a strong commitment to each other.
The NORTH (WHITE) went on to win 8-1 against Newcastle Red, and 6-0 against Newcastle Orange. Meanwhile NORTH (RED) were just as impressive beating Newcastle Orange 6-1, and Newcastle Blue 6-1.
The final games of the night saw NORTH (WHITE) play against Newcastle White, and the winning streak of the NORTH (WHITE) team come to an end. The girls went into half time 2-0 down and tried to rally eachother on into the second half, however the Newcastle side had a goal keeper who seemed to stop everything. The game ended 3-0, and although the girls may have lost the effort shown was just as good as any other game in the night. In comparison, on the other side of the hall there was no stopping the NORTH (RED) team as they played Newcastle Red's in what seemed to be a one sided game. NORTH (RED) gelled together as a team and worked hard to put home not only 1, but 8 goals in total; winning the game 8-1 in another unbelievable performance.
Overall, NORTH managed to score plenty of goals and win almost every game, doing amazing in their first competitive games as a team. Our very own Amanda Mukasa topped the goal scorers of the night with 12 goals, and not only that but every player on the NORTH side got on the score sheet. The night was a success and everybody involved had fun playing such a developing and growing sport. We cannot wait for what the future will bring in games to come!
Goals throughout the tournament came from:
Amanda Mukasa – 12
Lauren Snow – 5
Sarah McCabe – 4
Inma Asensio – 2
Laura Waters – 5
Aimee Gardiner – 3
Beth Cooper – 4
Rhea Ramjus – 4
NORTH v NORTH: (Friendly at the end between both teams)
With time to spare both North teams battled it out in an all POLY face off. Reds dominated possession with goals coming from Amanda and Lauren in the first 3 minutes. 2-0 up, the reds seemed composed until a goal came from the whites making it 2-1. Before the whites even had a chance to get back into the game the reds hit back with more goals and great technique from all the players. Rivalry didn't stop the girls from smiling and although the end result showed reds to win 8-2, everybody came out a winner!
Rebecca Hansen: "To come from 3 girls at Friday sessions to six weeks later having a solid set of players and 39 goals against Newcastle is incredible, and I cannot wait for what the future holds for NORTH Women's football and the potential to progress further in such a great sport."
Interested in getting involved? Our club is open to all abilities, so even if you've never tried before you can still join in!
Find out more about Women's Football