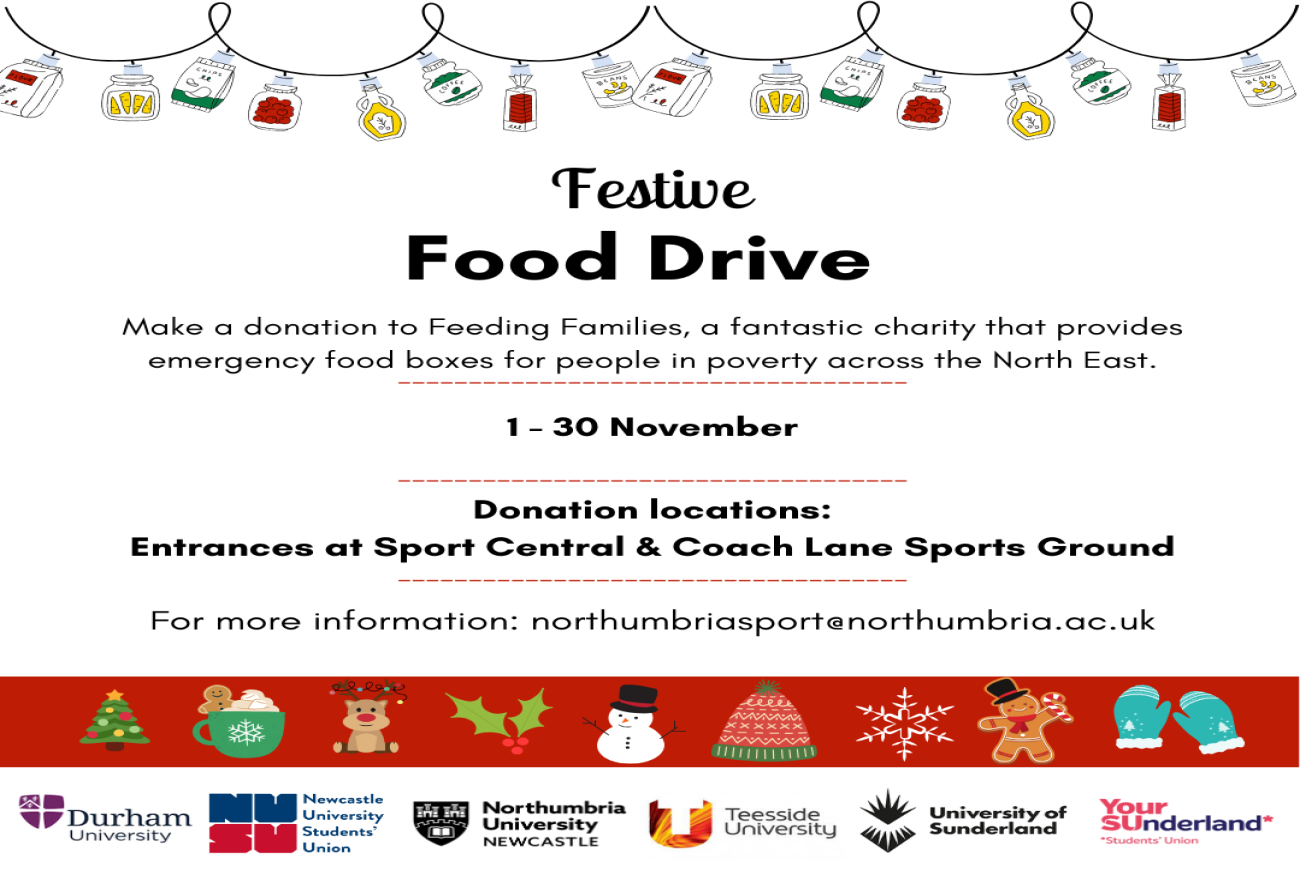 Northumbria and fellow North-East Universities encourage students and staff to donate to the Festive Food Drive campaign – collecting essential food items for families in need this Christmas.
No family should go hungry at Christmas time, that's why between 1 - 30 November, collection points at entrances to both Sport Central and Coach Lane Sports Ground have been set up, encouraging students and staff to donate in support of the Festive Food Drive campaign.
Northumbria University has teamed up with neighbours at Newcastle University, as well as Durham, Sunderland and Teesside universities, with the aim of collecting and donating items to the Feeding Families charity, who will create emergency food boxes. These boxes will be distributed across the North-East to those experiencing food poverty – ensuring as many families as possible have food on the table this Christmas.
Andy Barton, Sport Development Officer at Northumbria Sport who is overseeing the Festive Food Drive, says: "As we approach the Festive Season, a time that many look forward to with anticipation, it can be easy to forget that there are some within our own community, who are not as fortunate."
He adds: "Northumbria Sport are proud to work with the other universities across the North East to support this important cause. I implore any students and staff to give what they can to support local people across our region. Thank you for supporting this important cause!"
Feeding Families was initially founded in 2016, solely as a Christmas hamper scheme, putting together food packages for families in need. With the help of generous donations, selfless volunteers and even continuing through the Covid-19 pandemic, the charity has gone from strength to strength, with over 400,000 items of food distributed between 2022 and 2023.
The positive extent of Feeding Families' work is clear to see, however, it is not possible without generosity of the local community. That is why at Northumbria Sport, we have tried to make it as easy as possible for both students and staff to donate, whether you are based at City or Coach Lane Campus.
Below is a list of suggested items that will go a long way to support families in the North-East this festive period:
Food Items:
• UHT milk
• Tinned meat (hotdogs, meatballs etc)
• Tinned fish
• Tinned fruit
• Sponge / rice puddings
• Long-life juice
• Pasta sauce
• Tinned veg (potatoes, carrots, green beans, tomatoes etc)
• Tinned meals (spaghetti, chicken or veg curries, chillies)
• Tinned soup
• Jams and spreads
• Cream crackers
• Cooking sauce (packets / jars)
• Baked beans / tinned spaghetti
• Tea / coffee
• Sandwich spread paste / jam
• Cereal
• Rice
• Soup (packets / tins)
• Biscuits
• Custard / rice pudding / angel delight
Non-Food Items:
• Shower gel
• Shampoo and conditioner
• Deodorant
• Toilet rolls
• Washing up liquid
• laundry detergent pods
• Soap
So, next time you are heading to Sport Central for a swim, or Coach Lane for a BUCS fixture, why not look in your cupboard and see what you can donate? A little action can go a long way in transforming a family's Christmas in the North-East this year.