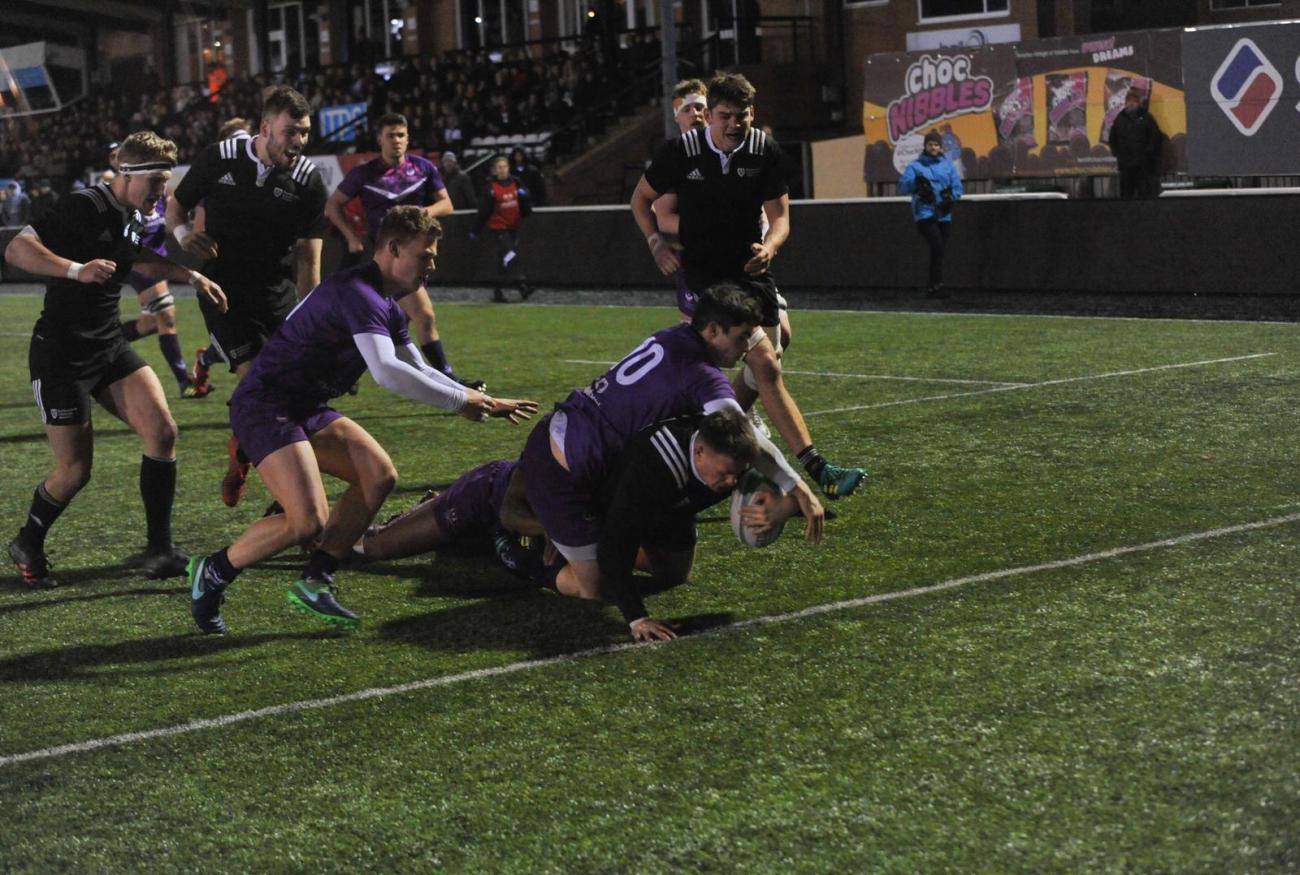 On a cold night at Kingston Park, a scintillating first half performance coupled with a defensively solid second half ensured that Northumbria University M1 Rugby Union secured a home bonus point 35-19 win over Loughborough under the lights of Kingston Park.
The game got off to typically blindingly BUCS Super Rugby start, with both sides trading early scores – the score 21-19 in favour of the hosts at half time.
While the first half was full of scoring, the second was more reserved with Northumbria unable to put the game to bed despite several excellent chances.
Luckily for the hosts they were finally able to break through the stout Loughborough defence thanks to a sensational solo try from outside centre Lewis Berg who battered his way through five defenders to extend Northumbria's lead, putting them out of sight.
And when the final whistle went, an elated head of rugby Darren Fearn could barely contain his delight going as far as to call his sides performance their most complete of the season so far.
"I'm delighted with the result – the lads put in a real dogged effort," said Fearn.
"I'm so proud of their effort and to keep Loughborough to no points in the second half is incredible – the defence was outstanding.
"We talked about some issues at half time and said that our defence and ill-discipline were letting us down.
"The lads took everything on board and fair play to them, I was delighted with their response.
"The backs looked really slick and they looked like they were all on the same page tonight.
"I thought the forwards were also brilliant – it was a complete contrast to our last two games.
"Credit to lads, all of them put their hands up tonight and then the bench came on and did a brilliant job too."
With the game in the balance heading late into the second half, it was beginning to look like Northumbria would never cross over for their bonus point try.
But, Fearn's side showed off their fight, character and resilience to eventually cross over for their fourth and fifth tries late on in the contest – which pleased the England student's coach.
"I'm delighted with the way the guys responded," said Fearn.
"When we were two points up and we were beginning to squander chances, it was in my head that this could come back to bite us.
"It was a real test of character for us and as much as we've come back into games this season, to defend a lead and then see it out is something I'm extremely proud of."
And while Fearn also praised his side collectively, he also took the time to mention the contributions of backs Lewis Berg and Ruairi Howarth.
"Lewis Berg's try was brilliant – I thought he played really well," said Fearn.
"He was outstanding and he's just getting better and better every week.
"I'm delighted with how Ruairi played – he was outstanding too.
"He made some very clever decisions and looked really confident at full-back.
"We needed him to step up and deliver and he really did so I'm absolutely chuffed for him, I thought he was excellent.
"I could list a lot more but to be honest I couldn't fault any of them, they were all brilliant.
"I'm really happy and now we've got to go to Cardiff Met on Wednesday and get something from them.
"In my eyes, that was our most complete performance this season."