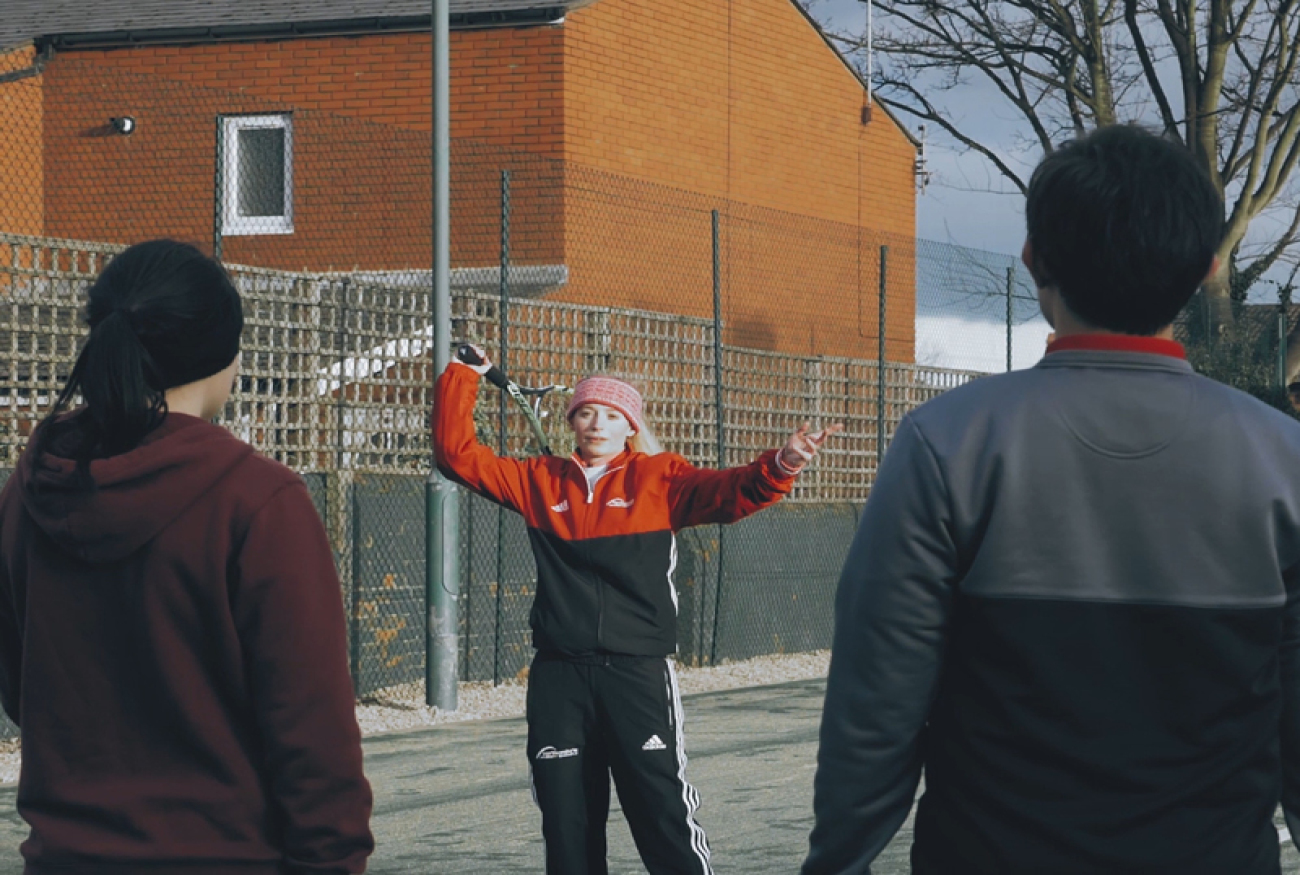 What does inclusion mean to Tennis?
Inclusion is a big part of any community and sport, tennis is no different. As a Level 2 assistant tennis coach I have always felt that it is important to deliver sessions and a programme that is open to everyone and that each player gets something out of the session. A key thing I have learnt is to focus on what players can do with their difficulty or impairment and not to be scared to talk to players about what they feel they can do. There are many ways in which tennis opens itself up to enabling it to be accessed and enjoyed by any player. An example of this is the Lawn Tennis Association (LTA) alongside the Tennis Foundation have helped develop tennis pathways for Wheelchair Tennis, Visually Impaired (VI) players (for players who are partially sighted or blind), Deaf players and players with learning difficulties. These options have three levels within each category enabling the players to play at a local, national or international level giving them opportunities to develop themselves to whatever level they would like too.
Specifically, within the North East of England there is a very strong community of VI tennis taking place in the local vicinity in and around Newcastle and Sunderland. It is fantastic for the North East that we are leading the way in inclusion within tennis. VI tennis has such a large community with numerous tournaments and other activities taking place throughout the year. I have been on an LTA Disability and Coach Inclusion accredited course which helped me become more confident in delivery of all-inclusive sessions. The course enabled me to gain knowledge and use newly developed equipment to develop my understanding and ways of delivering sessions specifically for Visually Impaired and Wheelchair Tennis.
Tennis can sometimes be viewed as being too 'expensive' and therefore an elitist sport that not everyone cannot access. I have been part of a campaign called 'Tennis For Free' (TFF) which also runs in Newcastle in two locations. As the name may suggest these are free tennis session that run in community areas, usually in parks, around the main cities in the UK. The sessions are run by LTA Accredited coaches on a weekly basis throughout the spring and summer. The aim is to engage all ages of players from children to adults with a variety of sessions for all abilities. It is hoped that tennis can keep making leaps forward and grow our grass roots nationally to allow anyone to get involved and for all players feel valued within the tennis community whether they play causally or competitively. I was the leading coach through the 2018 TTF season which enabled me to be part of the growing tennis community and helped me see the diversity of this community.
As a female tennis player and a female tennis coach I have always felt in the minority and slightly intimidated at times. There is still a noticeable gap in the number of female players and coaches (particularly at a higher-level) compared to male players and coaches. According to the LTA in 2018, "30% less Women and Girls are playing tennis since 2005 and only 23% of the LTA Accredited workforce are female, 22% are female at Level 3 and just 17% at Level 4 & 5." There has been an increasing effort in trying to grow the tennis community for females and girls in terms of players and coaches. Judy Murray (the mother of Jamie and Andy Murray former and current No1 players in the world for doubles and singles respectively) has developed a "She Rallies" incentive and programme specifically aimed at young and teenage girls to get them involved and engaged with tennis. The sessions are tennis skills and drill based around small teams and group activities to help build their confidence and to help the players relax in the tennis environment.
The recent events of a Fed Cup (World Cup of Female Tennis) Group tie taking place in the UK in Bath in early February for the first time since 1993, this has really given Female Tennis the limelight it deserves, helping open tennis to girls and young players around the UK. With the British Women being victorious and the play off tie also being held in the UK in April 2019 we hope that this legacy will gain momentum and continue to grow even more. Closure to home in the North East there has been the growing and development of a Female Mentoring Scheme to help build a greater network of female coaches in the region. I was part of this mentoring scheme in 2018 as a mentee and the learning experiences and confidence the scheme has given me is beyond describable. The scheme helps each mentee grow not only in themselves but in their coaching abilities which intern helped grow and increase the positive impacts that each individual coach had and continue to have in their community. This I think shows that there are many ways this imbalance can be changed and overtime the changes are taking place for the better of the coaching and playing female community.
Inclusion is something that all organisation, communities and individuals must think about. We should all be working towards the aim of always being all inclusive. There are always adaptation and moderations that can be made whether this is in sport specifically in tennis or anywhere else to ensure that everyone has the opportunity and is included. Tennis is continuing to make big steps forward to ensure that it is an inclusive sport at every level.