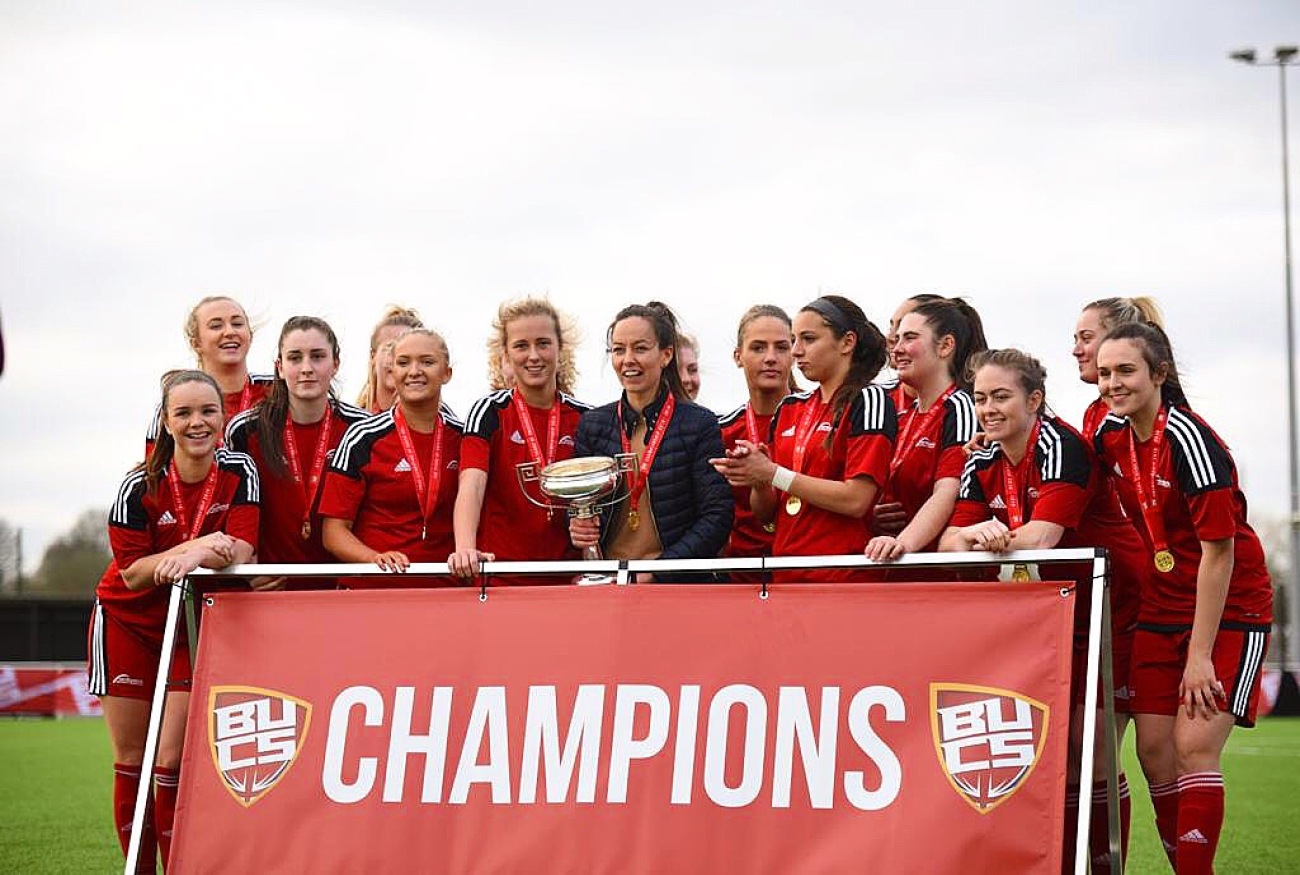 Northumbria Sport W1 Football coach Amber Whiteley has hailed her sides resolve and work ethic after their dramatic 3-2 BUCS Big Wednesday victory over a battling Loughborough University.
Last year at BUCS Big Wednesday, Northumbria were on the end of a heart breaking 2-0 loss at the hands of local rivals Durham - which meant that coach Whiteley's were looking to put some painful memories to rest.
While Northumbria's eyes were on a league and cup double, a win against Loughborough would also mean that Whiteley's side would finish the season undefeated - adding extra incentive to the tie.
While a first half injury to Loughborough's goalkeeper meant that there was a long stoppage in play, that did not stop Whiteley's side from grabbing the game by the scruff of the neck early on.
Displaying their championship pedigree, Northumbria took the lead in the 34th minute, courtesy of a scintillating free-kick from Mollie Dwyer - a stand-out performer in this seasons BUCS Premier North winning campaign.
Then, like London buses, Northumbria's second goal came just two minutes after their first - with Emily Scarr rifling home from close range to give Northumbria a 2-0 lead.
Not to be deterred, Loughborough came back into the game roaring - scoring their first goal of the game off the back of a superbly worked corner routine and at 2-1 down, Loughborough continued their spell of dominance.
Right on the stroke of half time, Loughborough's Grace Stanley managed to round keeper Grace Donnelly to slot home into an empty net.
With the scores level at half time, it looked as though it would be a nervy 45 minutes for Whiteley's side in the second-half.
But thankfully for Northumbria, a fumbled cross, which was whipped in by right-back Faye Mullen, handed Dwyer a tap-in for her second goal of the game - giving Northumbria a 3-2 lead early in the second half.
While Loughborough pushed for another equaliser, it unfortunately never came meaning that Whiteley's side held on for an incredible 3-2 BUCS Big Wednesday final win.
And speaking after her sides incredible achievement, Whiteley was overjoyed as she reflected on W1's Championship winning performance.
"We started off really well and were in complete control of the game," said Whiteley.
"At 2-0 up, we looked dangerous and we could have gone further ahead.
"It was disappointing to concede from the corner - that was the first set piece we've conceded all season.
"I think Loughborough's second really set us back and we struggled to get real control of the game back after that.
"But in a cup final, you just have to find a way to win and I'm so pleased they did that today.
"They're an incredible group to work with and I've enjoyed every minute with them this season.
"To go unbeaten and win both the league and cup is something we have never done before - every player should be so proud of themselves."