HAVE YOUR SAY IN SPORT!
The Student Sport Council (SSC) is a brand new Northumbria Sport initiative for 2019. The SSC is elected from and by the student body. The role of the SSC is to represent and support students, ensuring that they can play a role in shaping the sport programme at Northumbria. The SSC works with students and staff to capture the views of students to ensure everyone can access and contribute to a broad range of sport and wellbeing activities.
Student Sport Council Roles
The SSC is made up of 6 roles;
5 x Student Sport Club Officers

1 x Wellbeing & Inclusion Officer
Student Sport Club Officer:
This position allows students to work closely with the Student Sport Clubs and staff to support the development of their clubs. You will be responsible for looking after a number of clubs and will be expected to meet with them regularly to support them in achieving their club aims and objectives.
Wellbeing & Inclusion Officer:
This position aims to use Northumbria Sport programmes and activities to contribute to student wellbeing whilst at University. You will work closely with key departments across the University to provide pathways to get involved in sport. This involves working alongside the Students Union to promote and delivery key campaigns and events across the year.
Work closely with the Student Sport President to ensure all of our sporting programmes are inclusive. You will communicate with underrepresented groups across the university to ensure we are providing suitable activities for them to engage in sport.
Your Student Sport Council & their 500 word manifesto: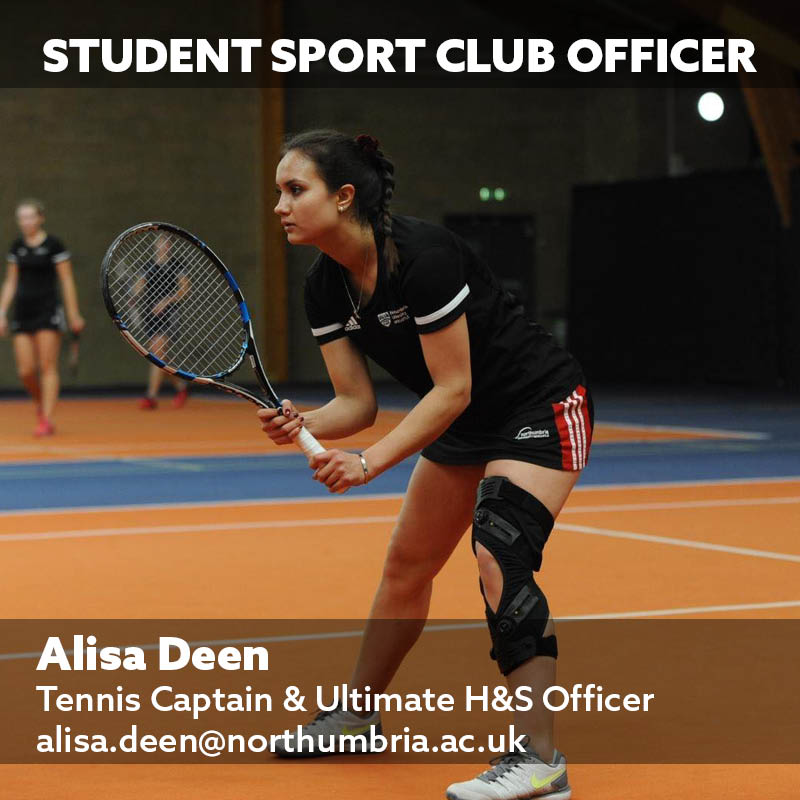 Having played various sports around the world all my life, I have experienced many different sporting environments, both good and bad. Therefore, I am passionate about creating the best possible environment for people who are either continuing a sport they love or wanting to try out something new. If I were to take the role of student sport club officer it would be integral to my development professionally and personally as a student at Northumbria university. Should I be successful in obtaining this role, I would look to achieve the following:
Regular meetings with various sport clubs to ensure they are maintaining their participation and developmental goals.
Attend as many BUCS fixtures and non-BUCS sessions as I possibly can to show support to all clubs.
Aim to be the voice of clubs that do not liaise well with Northumbria sport staff and make sure that they are communicating efficiently and are able to introduce new initiatives to their club.
For me it is important that all of the clubs are aware of events happening that may be of interest to them, as they could help increase their participation and/or development as a whole.
I would look forward to assisting the Student Sport President plan and deliver committee meetings as I believe it is such an important aspect of creating a successful club.
By being part of two sport club committees this year (tennis and ultimate frisbee) I have learnt a lot about the different structures of clubs at Northumbria. Being the women's tennis captain, I have learnt organisational skills and the importance of communication with my fellow team mates and Northumbria sport staff. As the Ultimate Frisbee's Health and safety officer, I have learnt the importance of being prepared for most situations and the anti-doping initiatives. It has also taught me the struggles a non-mainstream sport could face and how to overcome them and increase participation. This year we have more females participating than ever before, plus more club members in general. As I am studying sport management, having a role like this within a sport organisation will be very beneficial to my studies. It will also mean that I have further knowledge on how to help Northumbria's sport clubs and make them as successful as possible. I believe that sport has many benefits including; physical health, mental health and socialisation. Which is why it is important that we have as many students as possible participating in sport. Although the majority of my sporting career has been largely professional, I've always maintained the excitement towards sport in general, both competitive and recreational. My final aim would be to spread this mentality across Northumbria Sport, creating a balance between BUCS and social teams.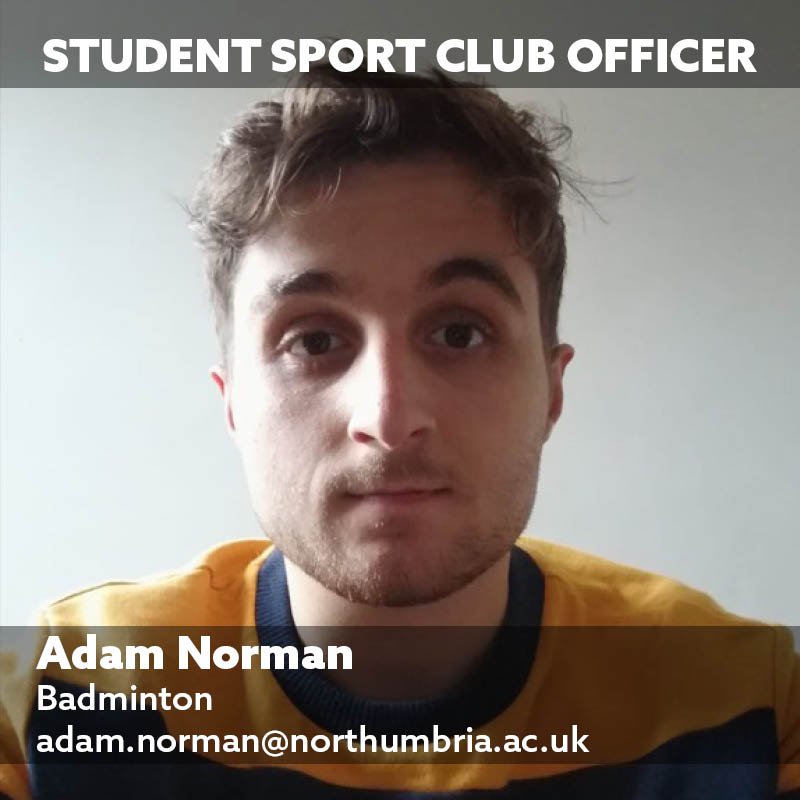 I have been a student of Northumbria University since 2017. I am currently the engagement officer for Northumbria Badminton, so I am in daily contact with club members, ensuring they are enjoying their time and dealing with complaints or questions which arise. This shows that I am personable, which in the role of sport club officer is beneficial as I will be dealing with multiple clubs, helping them to achieve their objectives and deal with any issues arising. In my badminton role I need to be dependable which I have shown when I stepped up to help with coaching and running badminton club when we went through a complication in September 2019. I have previously trained at 6am every week for badminton and am attending a formal training course at a weekend, showing my ability and willingness to work unsocial hours.
Being able to communicate clearly, confidently and concisely will be imperative within this role as I will need to speak up and voice the opinions of the clubs and members. I have plenty of experience in this area, beginning with head of house in my Grammar School, when I spoke in front of 250 pupils fortnightly and was required to represent their opinions and questions to senior teaching staff. I was a mentor for pupils in my school as well as a Cubs leader. These roles meant I engaged regularly with others, co-ordinated meetings, offered leadership, support and motivation. They also required highly developed organisational skills to run games which took time to set up and organise within tight time constraints, demonstrating the fact that I am dependable and a great organiser. These organisational and interpersonal skills have also been put to use in my role within Northumbria Badminton.
To be able to help with clubs/students, you need to be involved in sports and university life. As mentioned, I'm on the committee for badminton, which has given me valuable insight into how clubs are run at Northumbria including BUCS league. I am also involved in Korfball at Northumbria and throughout my time at secondary school I was also on the rugby team.
I am not just involved in sports; I'm the treasurer of the Finance and Trading Society at Northumbria. This role has given me experience in dealing with other committee boards, this has made me more confident as I need to sell the society to new students and sign them up. Therefore, understanding what new students want and require which will be needed in the role of sport club officer.
My skills make me a natural fit for this role. I am passionate about sports generally and feel this is a natural progression in my university life. I have experience in running a society and club and know how to deal with and handle tough decisions and situations, plus effectively communicating with members and leadership.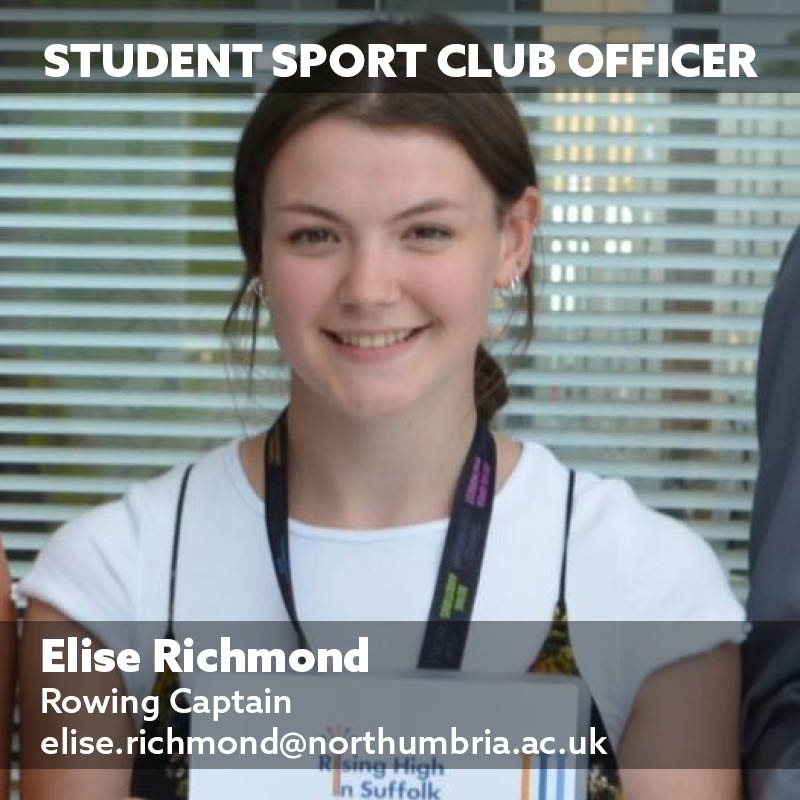 Already within this academic year at Northumbria, I have seen how vital it is for there to be encouraging communication between staff and student sports clubs. Without the interaction and positive relationship, clubs can begin to feel lost at what to do and new members can be put off in joining. I personally believe that the student sports council will be a fantastic way to continue to build on the work of staff at Northumbria to create positive sporting experiences for all involved. This is something that I wish to be a part of which is why I am applying for one of the Council Officer Roles.
I am passionate about ensuring that sport is open to all students, with everyone having equal opportunities made available to them. Again, the council roles will be ideal to ensure this occurs as students can come forward with their ideas to express what is working well or what must be changed to meet their needs. If I were to be elected as an officer, I have faith in my abilities to confidently contribute to the role to assist with fulfilling the requirements of each club.
Within my current Clean Sport Internship at Northumbria Sport, I have begun working with the different clubs to spread the message of keeping sport clean. This has enabled me to create links with the students, working to develop their knowledge on the topic. I have also had the opportunity to promote clean sport at the university, both face to face with students and electronically via social media. This experience within marketing is another skill that I will be able to apply to the officer role to promote clubs across campus.
I pride myself on my strong communication skills, something that will enable me to complete the officer role successfully. As Captain of the University's Rowing team, I have had experience communicating with the Sports Leadership Team and Students Sports President. Along with this, I am able to communicate with my own teammates to achieve the best for them. These opportunities have already enabled me to develop and expand some fantastic aptitudes surrounding communication.
If I am elected, I am able to promise that I will work hard to listen to students' views and advocate on their behalf. I will strive to push the positive development of all clubs within the University, whether it be the smaller ones looking to increase participation numbers or those who are larger and well established.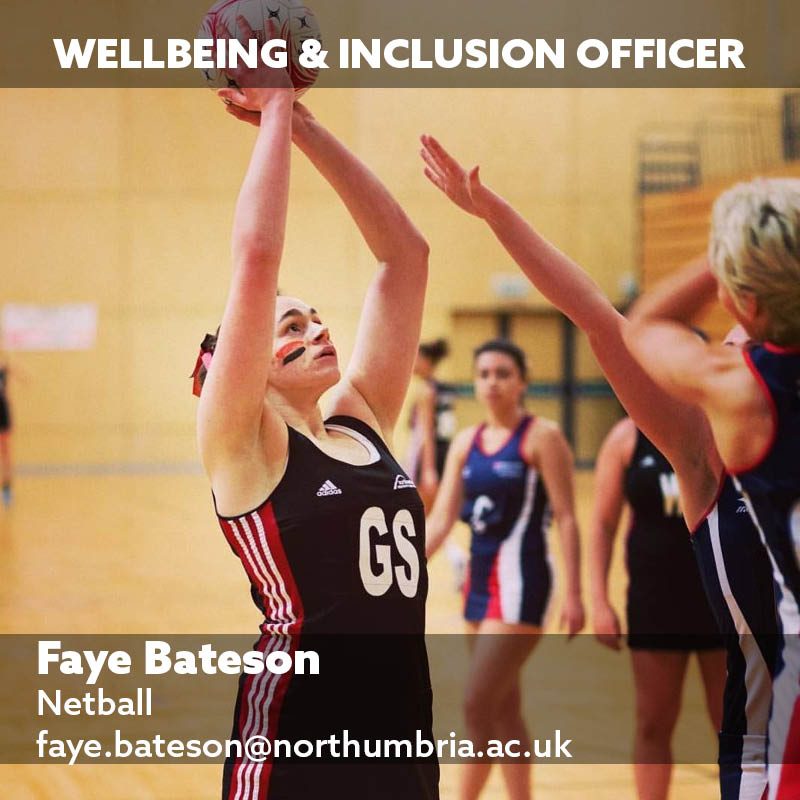 Hello, My name is Faye Bateson and I am a final year Undergraduate student studying Sport Exercise Nutrition. I have been at Northumbria for four years now and competed in the BUCS Netball programme since the beginning. I have been involved in a number of Volunteering opportunities during my time at Northumbria, Including Netball Volunteer 2017/18, and Team Northumbria Nutrition Volunteer and a Sport coach at the kid's summer and half term camps. This year I am coaching 3rd/4th teams along with our development Netball squads. I have been on the netball committee the last two years and I am currently acting as Participation and Inclusion Officer.
Making sure that everyone feels as part of a community in sport is a key passion of mine and something that I want to energetically pursue in my final year at Northumbria. I am hard working, empathetic and understanding individual committed to creating an accessible platform for which people from all backgrounds and walks of life, are able to participate in sport. I always have the time of day to talk to everyone and anyone. I feel it's important to talk and get to know people outside of your sport social circle to allow growth between sports, creating an even stronger sports community.
In previous years awareness campaigns such as This Girl Can, Rainbow laces and Student Minds have been an essential part in paving the way to reducing barriers and stigma throughout sports. With these campaigns and a good communication network between clubs, I hope to continue to break down everyday barriers with volunteers and committee members to promote a fun, fair and facilitated environment, allowing people to engage with sport in a safe and supportive environment.
Some key aspects I would love to see at Northumbria this year is more joint socials between clubs and the option of non-alcoholic socials. I would also like to continue pushing campaigns already at Northumbria such as the pop- up sport and active halls. I also have other idea's such as multisport session allowing people to engage with different sports each week.
Sport and physical activity is not just something that keeps our body fit and healthy, it also allows people to develop friendships and relieve stress. I don't know where I would be without sport in my life, because of this I feel incredibly passionate about doing the best I can to get people involved and engaging on a regular basis in sport.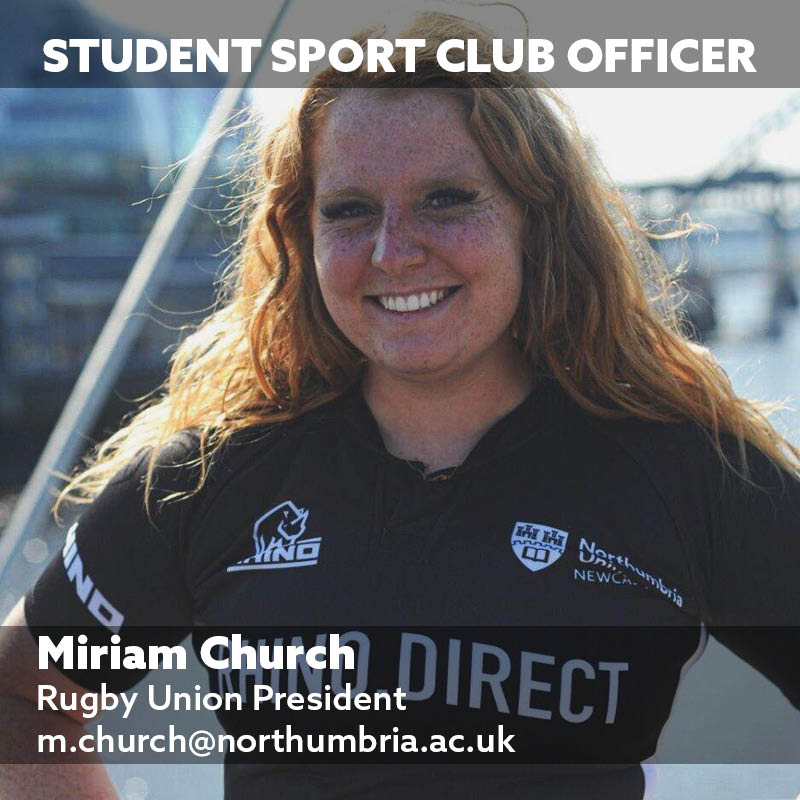 Hi, my name is Miriam Church and I am running for the position of Student Sport Club Officer because, I am passionate about sport. Currently, I am the Women's Rugby Union President, and I find that I can do more for the university within sport. I thrive off working hard and making sure that everyone is given an equal opportunity within any sport that they participate in, no matter what level they may begin with. This role will give me the opportunity to work closely with the Sports President, and have my ideas become a reality.
I have experience in leadership roles, that may be with being Women's Rugby Union President- where I am constantly in contact with my committee and making sure all the new people are welcomed within the club and have a good time from start to finish, it's about retaining girls for a long term vision and goal with building women's rugby to its highest potential. Additionally, I am my course representative for Business with Management, where I parlay students' opinions back to the module leader and make sure everyone's concerns are heard. Over the past summer I have completed Camp America, with being a Senior Camp Counsellor at an Army and Navy Academy- where I dealt with a number of safeguarding issues, and meetings with the board of directors every week on how the camp is ran, and what can be improved. Furthermore, I have completed a placement at a Private Equity Firm, where my responsibilities included writing contracts and proposals, completing minutes within meetings, and sitting in meetings with investors and clients. To add, I have been granted a placement next summer in Russia in a Sports Administration Firm, where I can push my love for sport even further than ever before, with using my Russian language.
I love being a high-performance athlete, however this year since I am injured, I find taking a step back and really immersing myself with behind the scenes admin and work, is something I find highly enjoyable, and rewarding. I believe these attributes make me an ideal candidate.
If elected, I plan on increasing participation with holding a new series of events aimed at getting more people involved in sport, and making sure sport doesn't intimidate students, but welcomes them. Increasing outreach and reputation is my first objective. Increasing social activities by running weekly social in different venues across the university.