Get Your Game Ready
Another year of University has come to an end and for many of you this will be the end of student life, all the hard work over the past few years including assignments, exams and placements are over and now it's time to enter what can be a scary transition into the world of work and life beyond education. For some of you this is an exciting time, no more living on a student loan or the pressure of deadlines with a exciting summer of plans and maybe a job lined up afterwards. However some of you may be feeling a sense of anxiety and questioning 'what do I do now?', 'How do I get my foot in the door post-covid?' and feelings of uncertainty for the future and what direction your career might take.
So we thought we would offer tips to provide you with some direction and something to work towards as we start to emerge from the pandemic and University life:
Mind Set Tips
Set a positive and realistic mind set –

It may be an anxious time to be graduating but industries will bounce back. Keep thoughts positive by focusing on what you can do rather then what you cant.

As businesses and workplaces start to open again new jobs will start to emerge again, however this may take a little bit of time. It's important to set realistic expectations when searching and applying for work post lockdown. Use this time to develop yourself via additional training or developing on skills and experience via volunteering to ensure while job opportunities start to build again you continue thriving so your in the best position possible when those opportunities present themselves.
You have time, explore your options! In a society which puts so much emphasis on career and success we can forget about everything else that life has to offer. As a fresh graduate this is a great time for you to start reflecting on what you want from life and what your values are and set yourself some goals to work towards in all aspects of life whether that's perusing the career of your dreams or experiencing life while searching for further direction and what path you would like your career to take.
Take time to reflect - For a number of years you've probably had ambitions of graduating from University and now it's time to reaccess your goals and set yourself on a new mission. We have some tips below!
Set your Values and Your Goals
Find your passions and review your values. Start a list of what things you enjoy in life and what you think your good at and look at what appears on both lists, this may start to point the finger on what you would like in a job. Now, make a list of your values and pick out three core values. If your ensure what your values are make a list of what values you admire in other people as these tend to be values that you think of is important. When you have your list of values this can help you base all future decisions and help you stick to the direction you want in life. These values may change throughout life as circumstances change, so reviewing these after finishing University is a good starting point.
Here are a list of values as an example, select the ones that resinate with you the most. These should be core values that mean something to you and for you to stick too.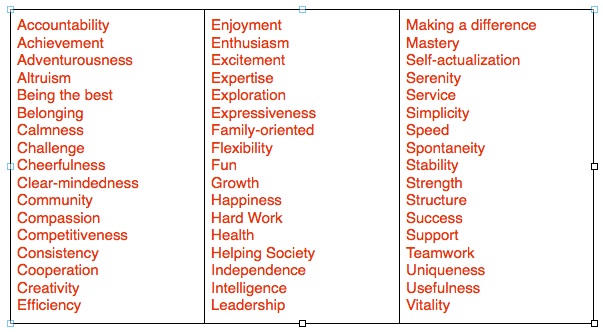 Start researching! To get an idea of what you would like to do start researching into the sector your passionate about. Look at the current jobs even through if they are at a higher level and look over what skills, experience and knowledge is listed as desirable and essential, and you can use this to help create goals for yourself to work towards.
Now you have a list of what skills, knowledge and experience is required in your chosen job we can now start looking at setting goals based around developing on these areas. For example if you were looking at developing yourself as a coach you may want to set yourself a goal of continuing education via coaching certificates alongside developing skills in communication and experience working with young age groups. Pick out areas you would like to expand and develop further and base your goals around these.
Start by setting your long term goals by writing these down, once you have these base some small short term goals that support this. Start by looking at what you need to action over a 4 week period which will help you on the path to achieving your long term goal. Over time you can then start adding to you plan and constantly reviewing this to ensure you stay on the right course.
Make your goals SMART. Specific, measurable, achievable, realistic and time-bound.
View any barriers for you achieving your goals and potentially how you may need to adapt to overcome these. Now look at the opportunities available to you, what could you use or help you accomplish what you want?
Some goals may take a long time to achieve by breaking these down we can stay more motivated celebrate wins along the way. Keep in mind your why for wanting to schieve these goals but ultimatly enjoy the journey along the way!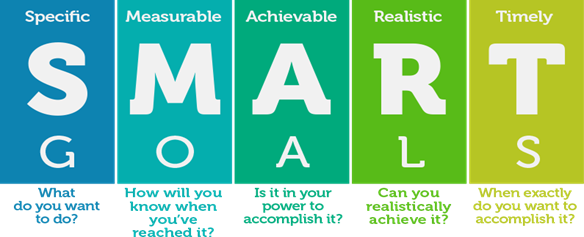 What opportunities are out there…?
There are a number of tools and resources out there to help you on your journey. Here are some example below byt remember you can always reach out for support from the University. If you're looking for opportunities in sport you can contact us at any time, alternatively NU Graduate Futures offer some amazing tools and opportunities to help you.
Learning opportunities
UK Coaching
Open University
NGB websites
LinkedIn Learning Hub
Job Opportunities (sign-up for job alert notifications)
Search on your NGB sport websites
Sport and Rec Alliance
BUCS
Local college, University and Council websites
LinkedIn
Volunteer Opportunities
Graduate careers
Local council websites
Just Do-It website
Charity websites
Contact schools
Don't be afraid to approach your local club or sport facility to ask for volunteer opportunities
Once you have your core values, goals and have done your research you are ready to start actioning your game plan!
GOOD LUCK!