DUE TO NATIONAL RESTICTIONS WE ARE CURRENTLY UNABLE TO RUN ANY OF THE PROGRAMMES BELOW. WE WILL UPDATE THE WEBSITE ACCORDINGLY ONCE PROGRAMMES RESUME.
FA Wildcats
FA Wildcats is a national initiative by The FA to increase the number of girls who play football. Northumbria Unversity's weekly FA Wildcats sessions run on Mondays 6pm-7pm at our Coach Lane Sport Centre on our state of the art 4G Pitch. All sessions are delivered by FA qualified coaches, and provide 5-11 year olds with fun and engaging sessions where they can learn new football skills, play games, and be active in a safe and supportive environment. Northumbria University is an FA Women's High Performance Centre with one of the top women's university football programmes in the UK, so your children will be provided with the perfect role models to inspire them to enjoy football and gain a lifelong passion for activity.
Places can be booked online via The FA's website or contact details for the session are at the bottom of this page.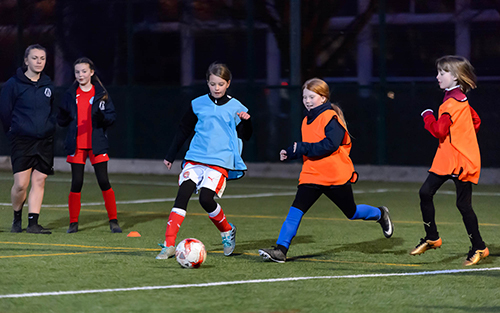 2019/2020 Session dates:
TBC
All session take place at Coach Lane Sport Centre, Coach Lane Campus, East Coach Lane, Newcastle upon Tyne NE7 7XA.
All session are outdoor on the Floodlit 4G Football Pitch.
Cost of session: £1 per child per session
Have fun, make friends, play football
Please email Keir Tattersdill (k.tattersdill@northumbria.ac.uk) if you have any questions.